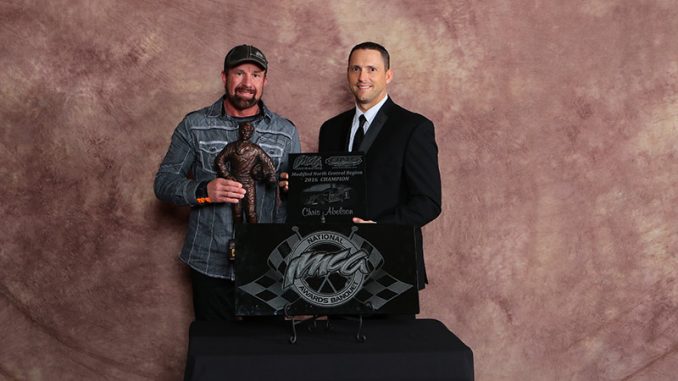 SIOUX CITY, Iowa – Chris Abelson wanted to concentrate on winning his first Hawkeye Dirt Tour crown and hitting more special events this season.
He accomplished both goals, while racing to a third straight BMS North Central Region title.
"Following the Hawkeye Dirt Tour was my goal for the year. That and racing at more specials were the extent of my plans," said Abelson, from Sioux City, Iowa, and the defending Xtreme Motor Sports IMCA Modified national king. "To get better, you need to race against better competition and I knew a lot of those drivers would be in the Hawkeye Dirt Tour and at the bigger shows."
"I wanted to become a better driver and see how I measured up," he continued. "When you can race with drivers like that and be a top four car, you've got to consider that a success."
Largely a one-man team this season, Abelson ended with 31 wins in 70 starts – at 19 different tracks in three states – and paced the points at Buena Vista Raceway.
His 10 Hawkeye Dirt Tour starts included a win and six more top five finishes.
"Living on the other side of the state, I remember looking at the schedule and thinking to myself that there were races at a lot of tracks I'd never even seen, like Benton County, West Liberty, Dubuque and Tipton," Abelson said.
The winner at West Liberty, Abelson led the point race from July 21, after running second in the Knoxville show.
"I battled with Joel Rust in the beginning of the series and Kelly Shryock was right there at the end," he said. "There were a lot of good guys I had to beat to win the tour."
There were also a lot of good drivers he beat to win the region.
"I missed some nights at my weekly tracks and it's hard to even make the national top 10 without a track championship," Abelson noted. "What saved me in the region was Buena Vista Raceway. I won enough races and with the bonus points from Alta I was able to win the region."
Abelson now has 139 career wins in his eight IMCA Modified seasons. Ninety-two of those checkers have flown in the last three years.
"I got started racing later than most drivers but I've gotten more patient and learned to wait for things to come instead of pushing the issue. I'm as on top of my game now as I'm going to be," he said. "More guys will get faster next year. I'm excited for a lot of them and look forward to racing with them."
Starts: 70
Wins: 31
Additional Top Fives: 21
HIS SPONSORS: Afco Racing Products of Boonville, Ind.; Razor Chassis of Platte Center, Neb.; Friesen Chevrolet of Sutton, Neb.; Speedway Motors of Lincoln, Neb.; Sybesma Graphics of Sanborn; Shayne Hin­keldey and family of Ida Grove; Beck's Hybrids of Colfax; and I-State Truck Center of Sioux City.