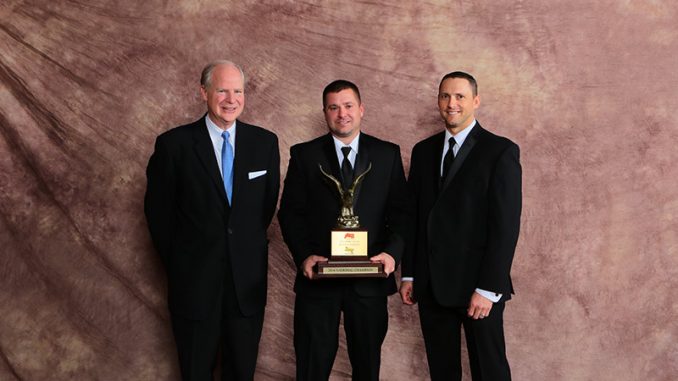 DES MOINES, Iowa – Always a contender, Shannon Anderson served notice early that he'd be the driver to beat in the race for the 2016 IMCA Sunoco Hobby Stock national championship.
Thirteen wins in the Des Moines, Iowa driver's first 19 starts set the stage for his record sixth career na­tional title.
The national points leader by mid-May, Anderson had 27 wins in 53 starts to complement Big Daddy Race Cars Northern Region and Kossuth County Speedway and Iowa State Fairgrounds Speedway track titles.
He and Stock Car king Mike Nichols became the first drivers to win career sixth national championships in the same division during IMCA's modern era, which dates from 1979.
"It's hard to believe. I know how hard it was to have five other seasons like this," Anderson said. "It's been a lot of work, a lot of shop time and a lot of racing."
Listen to "Episode 194 Shannon Anderson" on Spreaker.
Anderson's father Jeff was a five-time Stock Car champ and Keith White won five Scoggin-Dickey Parts Center Southern SportMod titles.
"I don't know how dad won five in a row (from 1997-2001)," said Anderson, who crewed for his father during that amazing reign. "That's a record I think will be impossible to beat."
The all-time division leader with 282 feature wins and 23 track championships, Anderson finished outside the top five just five times this season.
"We always work hard on maintenance but you just have years where you miss getting caught up in on-track stuff. We had a year like that," he said. "And it was nice to get back into a Terminator this season. I won my first two national championships in 2008 and 2009 in a Terminator. It's a car that fits my driving style."
Anderson won features at 11 of the 12 tracks, in three states, he raced at in 2016. He was an eight-time win­ner at Des Moines and a seven-time winner at Algona.
Notably, 22 of his starts came against national runner-up and Allstar Performance State champion Cody Nielsen in fields at Buena Vista Raceway or Kossuth County.
"The top two drivers in the country were running against each other Wednesdays and Thursdays. That had to be great for the fans," Anderson said. "Cody is extremely fast at both tracks. He's hard to beat."
While his regular weekly tracks are yet to be determined Anderson will return for an 11th season in the divi­sion in 2017.
"I won the first national championship and wasn't really going for it. The second time (2009) I won 43 times. I've tried to live up to that since and it's not possible in the Hobby Stock division," he said. "It gets harder to win every year because there are just so many good drivers."
Starts: 53
Wins: 27
Additional Top Fives: 21 
HIS CREW: Mike Leffler, Donald Maas, Jamie Flugge-Smith, Andy Coffman, Rene Senecut, Kyle Schmauss, fiancée Ashley, kids Jeffrey, Ryker and Kensley, father Jeff Anderson and uncle Mike Anderson.
HIS SPONSORS: Parents Jeff and Carol Anderson, grandparents Gary and Judy Anderson, Grandma Ryan, and Mike, Kim and Ally Anderson, all of Atlantic; Ed Sorensen and Donald and Amber Maas, all of Stuart; AERO Race Wheels of Estherville; Friesen Chevrolet of Sutton, Neb.; Bilstein Shocks of Poway, Calif.; Finishline Body and Paint of Grimes; Nutz Graphics of Oskaloosa; CIT of Newton; Immel Farms of Adair; Jergens Enterprises of Plover; Quick Performance of Ames; Upper Edge Ag of Adair; Pat Fagan and Fast Shafts, John's Tree Service and Chuck & Larry's Transmission, all of Des Moines; Terminator Chassis, Kyle Brown and Harris Auto Racing and Bushore Racing Enterprises, all of Boone; Pippert Trucking of El­beron; VP Heartland Race Fuels, Manhattan, Kan.; and Sanborn Auto of Sanborn.