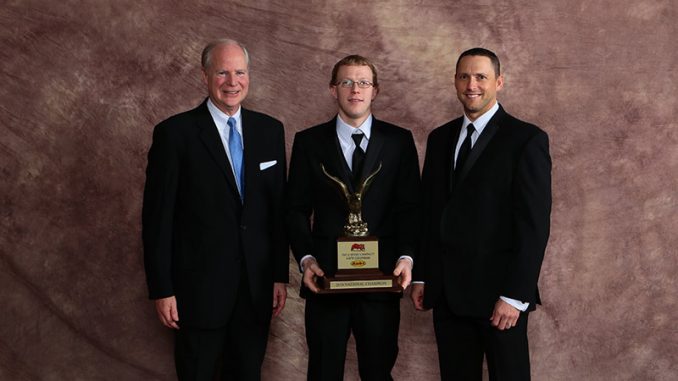 MANKATO, Minn. – Even after he'd won a career third IMCA national championship last year, Nate Coopman had his doubters.
There shouldn't be any naysayers left after the Mankato, Minn., driver won 33 features and his fourth national Mach-1 Sport Compact crown this season.
"I didn't plan to run for it at all but there were people who told me I couldn't do it again," Coopman explained. "So there was some motivation there, plus I won a bunch of races early in the season and knew if I did any traveling that I'd have a pretty good shot."
Coopman scored feature wins at seven of the nine tracks in three states he raced at, collecting 14 straight checkers between May 6 and June 18.
Streaks of six and then five straight victories put him atop the national point standings to stay in early August.
His three track championships came at Redwood Speedway, Jackson Motorplex and Nobles County Speedway where Coopman won 10, nine and four features, respectively. He won for the 200th time in the sanctioned 4-cylinder division over the Memorial Day Weekend at Redwood Falls.
"We won Super Nationals last year so we've already accomplished a lot of our goals. The 200th career win was one of them we wanted to get this season," said Coopman, who will also hang a fifth Allstar Performance Minnesota State championship plaque on the wall. "I've had a lot of good help from family, friends and sponsors during my six years in this class and a lot of the credit for my success has to go to them."
Listen to "Episode 193 Nate Coopman" on Spreaker.
Coopman is the all-time leader in the division with 226 feature wins and 18 local track titles. He's also the only driver to win the national Sport Compact crown more than once.
"Winning the national championship the first time (in 2011) was special and the 54-win year (2014) was definitely good," he said. "What stands out about this year is that it was our third straight and fourth overall national championship."
Coopman didn't celebrate his 24th birthday until the day after 2016 point standings became offi­cial. He's won more national championships at the age of 23 than any driver in IMCA's modern era.
"The competition is getting faster, and they're getting younger," he said. "You really don't notice that until you start going to more different tracks."
Starts: 51
Wins: 33
Additional Top Fives: 8 
HIS CREW: Parents Jerry and Kim, uncle Andy Coopman, grandfather Jerry Coopman Sr., Robby Sev­erson, Chase Brocker, Ray Wibstad, Ryan Theunissen, Stephanie Forsberg and Neil Forsberg.
HIS SPONSORS: Mankato Crank and Chrome and Blaschko Building Supply, both of Mankato; Dan Knish and Knish Kustomz Automotive and Upholstery of Kilkenny; City Limits Bar & Grill of Slayton; and Joe Bunkof­ske and Racers Against Cancer, Arm­strong, Iowa.