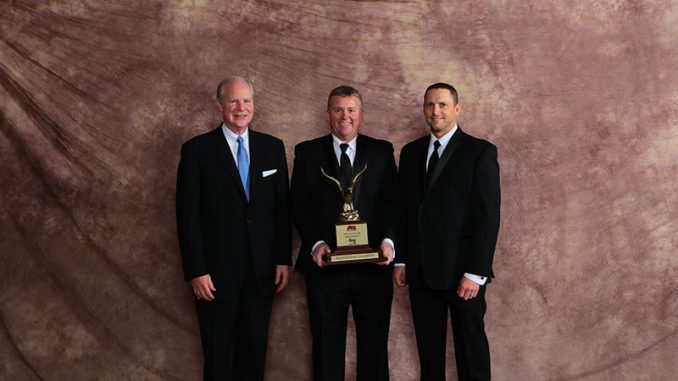 HARLAN, Iowa – Mike Nichols described his month of June as phenomenal.
The same adjective can be applied to his entire season.
Nichols won all 15 of his June starts and 54 times in all en route to his career sixth IMCA Sunoco Stock Car national championship.
He joined 2016 Hobby Stock king Shannon Anderson as the first drivers to win six national titles in the same division during the modern era of IMCA. Nichols also matched the single season wins rec­ord Nate Coopman established in the Mach-1 Sport Compacts two years ago.
"We started the season with 11 straight wins but our June was just phenomenal," said Nichols, from Harlan, Iowa. "You can plan and prepare as much as you can but a month like that defies the law of averages. Our whole season defied the law of averages."
Listen to "Episode 195 Mike Nichols" on Spreaker.
He finished outside the top five in just three of 66 starts at a dozen different tracks in four states.
Along with the EQ Cylinder Heads Northern Region crown, Nichols won Crawford County Speed­way, Lexington Raceway, Shelby County Speedway and U.S. 30 Speedway track championships.
Nichols posted double figure wins at all four speed plants, collecting 13 checkers at U.S. 30, a dozen at Crawford County and 10 at both Lexington and Shelby County.
"When my wife Anita and I talked about it at the beginning of the season, we wanted to support our local tracks. Our other goal was to have fun," said Nichols, the all-time leader in the division with 428 feature wins and 31 local track titles. "We went from racing three nights a week to four and I was very comfortable in the car. I was sharper mentally and I'm in better shape physically than I have been in a long time."
While seat time and the quality of his competition have always been factors in Nichols' improve­ment as a driver, he also shared credit for his 2016 success with the racing gods and luck.
"We had a lot of luck this season, whether it happened in the heat race or at the end of a feature and I was able to limp across the finish line," said Nichols. "I think I've always been lucky but we used up about 10 years' worth of luck this year."
Also the national champion in 2002, 2004, 2007, 2010 and 2014, he put the latest celebration on hold until track championship bonus points were tabulated.
"We knew we had the accolades and achievements. We weren't sure about bonus points," Nich­ols said. "We realized in mid-August that we could still not win the national championship but we enjoyed the respect of the people we raced with and that had a real impact on me."
Starts: 66
Wins: 54
Additional Top Fives: 9 
HIS CREW: Wife Anita, Justin Gessert and Paul Zimmerman co-crew chiefs, Mike Diercks, Stan Nichols, Tuffy Zimmerman, Brian Dotzler, Josh Nielsen, Chris Gaul, Mike Onnen, Axl Peterson, Sterling Sorensen, Steve Nichols, Lon Lefeber Luke Cochran and Justin Clark. 
HIS SPONSORS: B&B Chassis of Belle Plaine, Minn.; Moser Engineering of Portland, Ind.; Stephenville Starter of Stephenville, Texas; Bassett Wheels of Burlington, Wis.; Schoenfeld Headers of Van Buren, Ark.; The Joie of Seating of Concord, N.C.; Dynamic Drivelines of Des Moines; Performance Bodies of Cedar Falls; Bilstein/Jim Hiland of Mooresville, N.C.; Eibach Springs of Corona, Calif.; JE Pistons of Cypress, Ca­lif.; EQ Cylinder Heads of North Las Vegas, Nev.; Comp Cams of Memphis, Tenn.; Quick Car Racing Prod­ucts of Lebanon, Tenn.;  Mi Casa, Dotz's DJ Service, Petersen Motors, Archi's BBQ, The Lounge and the Rust Family, all of Harlan; Pizza Ranch of Denison and Harlan; KS Engineering of Albert Lea, Minn.; West­ern Carriers of WaKeeney, Kan.; Koch Farms of Cambridge, Neb.; Champion Oil of Clinton, Mo.; Dirt De­fender of Red Oak, Texas; FX Suspension of Phillips, Neb.; VP Heartland Fuels of Manhattan, Kan; VDL Fuel Systems of Theodore, Ala.; Racelogic Chassis School of Fort Smith, Ark.; and Home Pride Motorsports of Omaha, Neb.