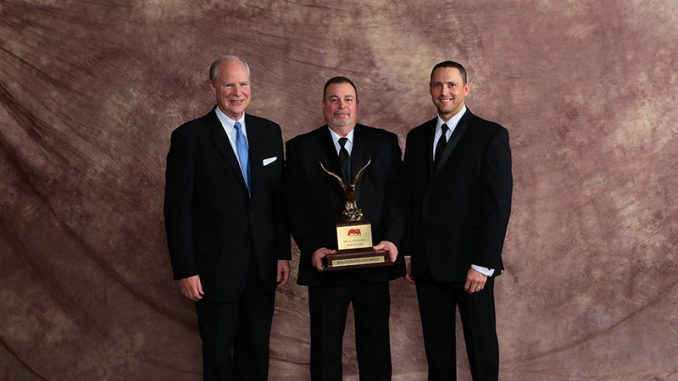 DAVENPORT, Iowa – By no means is Rob Toland ready to hang up his racing helmet.
But the oldest IMCA driver to win a national championship has definitely learned to better appreciate his on-track accomplishments.
Toland won the national Late Model crown for the third time, as well as track titles at his hometown Davenport Speedway and Quad City Speedway, plus the Allstar Performance Illinois State championship. He turned 55 six weeks after the point season ended.
Listen to "Episode 191 Rob Toland" on Spreaker.
"With age, we always appreciate things better. This national championship was pretty special to me," said Toland, who also topped 2001 and 2005 point standings for the premier division. "I was second in points at East Moline and Davenport when I got hurt at work and ended up missing the last half of 2014 and all of 2015, so it was good to be able to come back and be competitive."
"It was an amazing year. I would have never fathomed I would win the national championship and two track championships," he added. "Winning a national championship is always your ultimate goal but at the age of 54 I would have had to be foolish or arrogant to think I could do it. I couldn't imagine having this good of a year."
Toland led the national points race from green to checkered, wheeling a Mike Humphrey-built Mach 1 Chassis. His 10 feature wins gave him 128 for his IMCA career, fourth on the all-time list for the division.
He's now a 10-time track champion since 1998. The state crown was the first for Toland, who's divided his time between tracks on both sides of the Mississippi River.
His season highlight came on season championship night at Davenport, when he won ahead of son Bobby and friend Justin Kay, also a three-time IMCA national king.
Long-time sponsor Doug Curless, who crewed for and traveled with Toland when he followed the Hav-A-Tampa Dirt Racing Series in 1999 and 2000, partnered with him to run both the World 100 and the Knoxville Nationals.
"There are very few guys who still do it the way I do. I have always idolized Gary Webb and his work ethic," Toland said. "I have a job, I drive, I work on my own car and I have the best group of guys in the world who help me. One of them is retired but all the others still have jobs. They all help me as much as they can. We all do this because we love it."
Starts: 45
Wins: 10
Additional Top Fives: 23
HIS CREW: Wife Jolinda, Jim Ervin, Sean Ervin, Bill Feliksiak, Duane Christisen, Vern Remour, Elmo Baldock, Steven Ables and John Denato.
HIS SPONSORS: Doug Curless and C & W Trucking of Silvis, Ill.; DNS Solutions of Hillsdale, Ill.; and J & J Campers of East Moline, Ill.