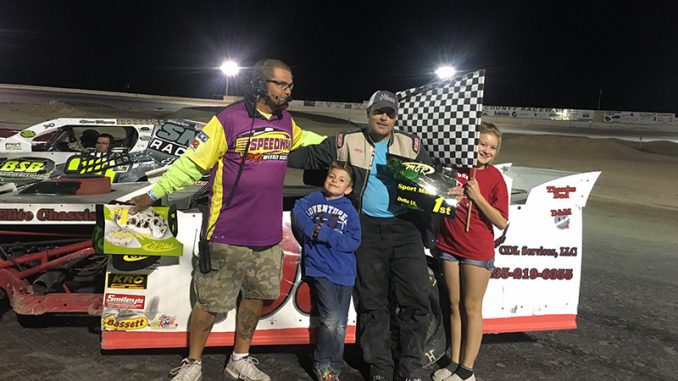 VERNAL, Utah – Scott Gray has a greater appreciation for geometry after the end of a career-type season that saw him crack the top 20 national standings for IMCA's Scoggin-Dickey Parts Center Southern SportMod division.
The Vernal, Utah hotshoe won 17 of 20 starts, along with Diamond Mountain Speedway and Mil­lard County Raceway track titles as well as the Allstar Performance State championship.
"I got a car that was new to me, a 2006 Elite updated in 2013 by Jeff Emerson, and that helped a lot," said Gray, 19th nationally despite the modest number of starts. "We put the setup on from the old car, minus the shock package, put it on the scale and moved the weights. The front end geome­try was better than the old car's and that helped a lot."
He won 11 of 12 starts at hometown Diamond Mountain, breaking before taking the green flag for the main event on the second night of the season. Gray was almost as good at Delta, with six wins, a second and a third in eight outings.
"I had a car that could move in traffic and I only had that one breakdown. I'll probably never have a season like this again," said Gray, who enjoyed a streak of seven consecutive wins from late June to early August and then ended the year with six straight checkers, including both Racin' In The Basin SportMod Shootout shows at Diamond Mountain. "I was able to race every night at both tracks. I didn't set out to race for state points but it worked out that way."
A third generation driver, Gray has a grandfather who started racing six decades ago while his father Steve preceded him in a late model and was runner-up this season in state SportMod stand­ings. Brother Travis has four state titles of his own and was seventh in the 2016 Utah stand­ings.
"What I like best about this class is the rules package. Yes, money helps but it only goes so far," Gray said. "The rules put everything back into the driver's hands."
Gray's sponsors are Royal CDL, D & M and Barker's Mailbox Express, all of Vernal, and Jake Smith and Desert Rock Products of Delta. His crew help includes wife Sarah and children Keirra and Jaxon, father Steve, brother Travis, and teammates Jason Reese and Wayne Hansen and their families.
"I couldn't have accomplished any of this without help, especially from my wife," said Gray, the first Utah driver to crack the Southern SportMod top 20 national standings since Gauge K. Smith in 2013.