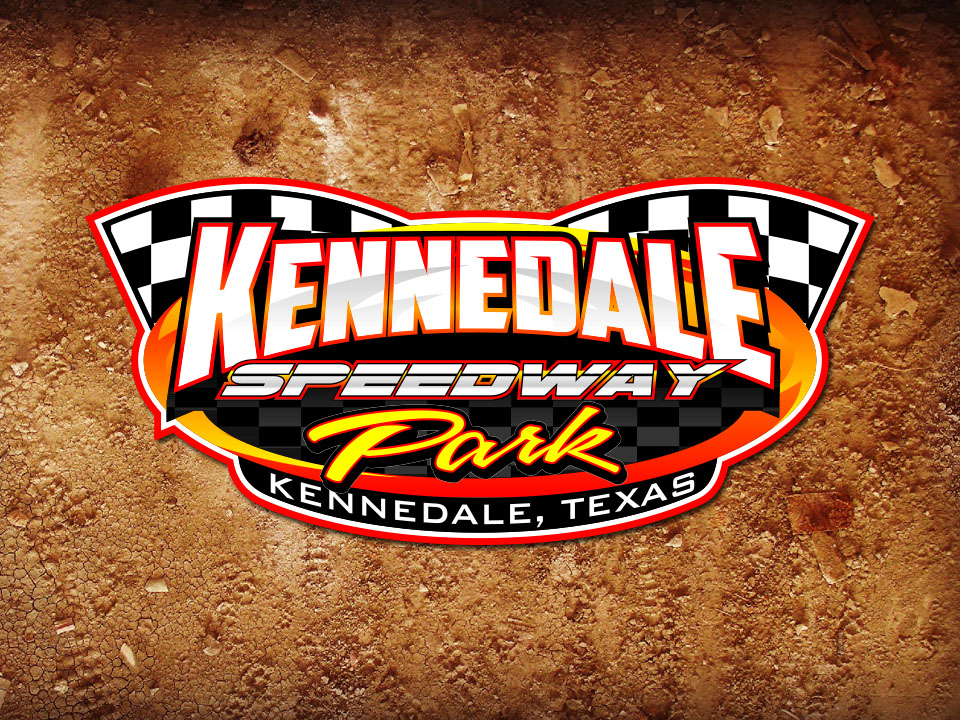 KENNEDALE, Texas (Oct. 1) – After he got caught up at work, Josh McGaha couldn't be caught at Kennedale Speedway Park's Showdown main event for Xtreme Motor Sports IMCA Modifieds.
"I wasn't going to go but we finally got caught up at work," said McGaha, who earned $1,500 along with a spot on the ballot for the 2017 Fast Shafts All-Star Invitational for the Saturday check­ers. "It turned out to be a good weekend all the way around. They had a good crowd, there was good competition and we got some good luck that played into our hands."
Crewman Jay Grimes had encouraged McGaha to make another racing weekend of it and three-hour tow was rewarded with a bookend trophy to the hardware they took home in 2012.
McGaha had gone with "a happy medium" as track conditions changed from qualifying on Friday to the main event on Saturday and, one in front, edged ahead to beat Razor Chassis Southern Region champion and defending race winner Matt Guillaume to the stripe by about four car lengths.
John Gober, Marvin Skinner and Darryl Campbell rounded out the top five.
Also topping $1,500 to win features were Jeb Sessums in the IMCA EMI RaceSaver Sprint Cars, Westin Abbey in the IMCA Sunoco Stock Cars and Jacob Pirkle in the Scoggin-Dickey Parts Cen­ter Southern SportMods.
Making just his fifth start since rebuilding his ride following a Memorial Day Weekend wreck, Ses­sums started on the pole, got the lead back from two-time defending race winner Chad Wilson and pulled away from national champion Andy Shouse for the Sprint checkers.
A couple cautions were all that slowed Sessums' march to the checkers. He also became a two-time Showdown winner, with the 2013 trophy already on his mantle.
Tyler Russell was third, Jake Martens fourth and Michael Day fifth.
Abbey, the newly-crowned EQ Cylinder Heads Southern Region champion, got into lapped traffic with seven laps left and then held off Kirk Martin following a restart with two to go.
"I didn't know where to run for sure," he said after leading all 25 circuits. "I just ran where it looked fast­est. The car was good and I was able to win by a couple car lengths."
Rounding of the top five finishers were J.C. Howell, Craig Moss and Jay Bransom.
Pirkle made up for a disappointing showing in last year's Showdown. He started the SportMod main from the pole, fell back to second, had the lead back by lap three and then started pulling away from Howell by lap five.
"I really wanted this one," he said. "We led almost the whole race last year until the brake caliper bolt broke and we got a flat. We went from first place and the big check to nothing. This year was a lot better."
Howell, Cory Williams, Jeff Sheppard and Junior Judkins were scored next.
Feature Results
Modifieds – 1. Josh McGaha; 2. Matt Guillaume; 3. John Gober; 4. Marvin Skinner; 5. Darryl Camp­bell; 6. Kevin Rutherford; 7. Dillon Pike; 8. Cody Shoemaker; 9. Jay Bransom; 10. Mitch McMillin; 11. Chad Melton; 12. Tanner Branch; 13. Erik Miles; 14. Brandon Hood; 15. A.J. Hutton; 16. Matt Martin; 17. Bert Wilten; 18. T.J. Lackey; 19. Jeff Emerson; 20. George White; 21. Bran­don McElroy; 22. Chase Allen; 23. Raymond King; 24. Charlie Thieme; 25. Tommy Williams.
Sprint Cars – 1. Jeb Sessums; 2. Andy Shouse; 3. Tyler Russell; 4. Jake Martens; 5. Michael Day; 6. John Ricketts; 7. George White; 8. Bryan Debrick; 9. Jeff Emerson; 10. Logan Scherb; 11. Shane Gloeckler; 12. Lucas Scherb; 13. Cody Scherb; 14. Chance McCrary; 15. Chad Wilson; 16. Matt Holt; 17. Dalton Steed; 18. Robert Byrom; 19. Marcus Thomas; 20. Daniel Estes; 21. Nicho­las Littlejohn; 22. D.J. Estes; 23. Justin Fifield.
Stock Cars – 1. Westin Abbey; 2. Kirk Martin; 3. J.C. Howell; 4. Craig Moss; 5. Jay Bransom; 6. Lewis Blackwood; 7. Brandon Taylor; 8. Caleb Crenshaw; 9. Darryl Campbell; 10. Jeffrey Abbey; 11. Ranger Shipman; 12. Demetrius Carter; 13. Todd Ludwick; 14. Jason Riddle; 15. Aaron Bene­dict; 16. Jeremy Carter; 17. Justin McCollough; 18. Mark Shipman; 19. Kenneth Fielding; 20. Mark Adams; 21. Chase Vineyard; 22. Allan Blain; 23. Justin Fowler; 24. Benji Kirkpatrick.
Southern SportMods – 1. Jacob Pirkle; 2. J.C. Howell; 3. Cory Williams; 4. Jeff Sheppard; 5. Junior Judkins; 6. Preston Manka; 7. Tyler Honeywell; 8. Garett Rawls; 9. Justin Nabors; 10. Jef­frey Abbey; 11. James Skinner; 12. John Freeman; 13. James McCreery; 14. Bobby Ortega; 15. Stephen Covey; 16. Justin Hossler; 17. Riley Dickson; 18. Devin Chambers; 19. Tom Walp; 20. Bret Young; 21. Danny Cavanagh; 22. Jake Upchurch; 23. John Rabozzi; 24. Brandon Williams.