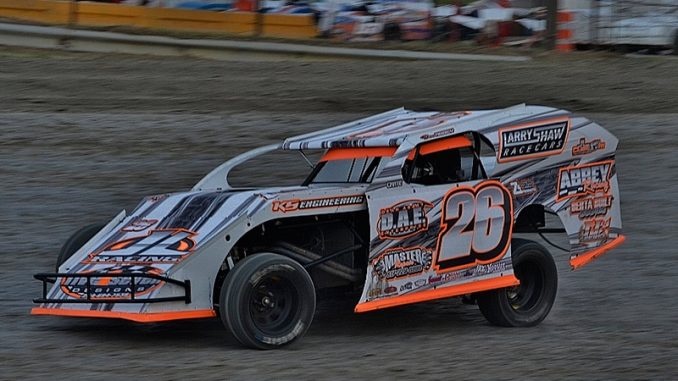 By J.M. Hallas
ENNIS, Texas (Sept. 24) – Brothers Dean and Jeffrey Abbey were both $1,000 feature winners Saturday as drivers from all over central and north Texas converged on 85 Speedway for the se­cond annual Bryan Mize Memorial.
Dean Abbey raced to the Xtreme Motor Sports IMCA Modified checkers and put his name on the ballot for the 2017 Fast Shafts All-Star Invitational. Jeffrey Abbey paced the Scoggin-Dickey Parts Center Southern SportMod show.
Dean got by early Modified leader Robbie Daniels, who stayed close and was joined by Josh McGaha in pursuit of the leader. Greg Dinsmore got by both on a late restart but didn't have enough laps left to challenge Abbey.
Fresh off his IMCA Speedway Motors Super Nationals fueled by Casey's victory, Jeffrey contin­ued his run by scoring the 20-lap Southern SportMod win. He beat Michael Martin to turn one as the green waved then went wire to wire for the win.
Mize was the setup guru for Kevin Sustaire and passed in 2015. Mize, nicknamed the 'Setuperachaun,' ran Bryan Mize Chassis Tuning and Fabrication in the north Texas area, helping many local area racers.
The race, a vision of Kevin Rogers Promotion, raises funds for his children's education. Many of the drivers pledged some or all of their winnings, track photographer Sandy Ramsey offered her profits from any pictures sold that night and donations were received from fans throughout the stands.
50/50 drawing money raised approximately $750 for the education fund.
Feature Results
Modifieds – 1. Dean Abbey; 2. Greg Dinsmore; 3. Marvin Skinner; 4. Josh McGaha; 5. Archie Witt; 6. P.J. Egbert; 7. Fred Wojtek; 8. William Gould; 9. Robbie Daniels; 10. Mike McCarthy; 11. Justin McCoy; 12. Hardy Henderson; 13. Blaine Shives; 14. Raymond McSpadden; 15. Kevin Ruther­ford; 16. Michael Jackson; 17. Dillon Pike; 18. Kevin Green; 19. Matt Martin; 20. Tommy Fain.
Southern SportMods – 1. Jeffrey Abbey; 2. Cody Smith; 3. Jacob Pirkle; 4. Kyle Wisdom; 5. Mi­chael Martin; 6. Jeff Sheppard; 7. Kevin Rowland; 8. Jake Upchurch; 9. J.C. Howell; 10. Jimmy Day; 11. Bo Day; 12. Billy Brutchen; 13. Tommy Davis Jr.; 14. Joe Browning; 15. Michael Newhard; 16. Walter Hamilton; 17. Sid Kiphen; 18. Kevin Simpson; 19. Albert McCall; 20. Allen Montgomery.