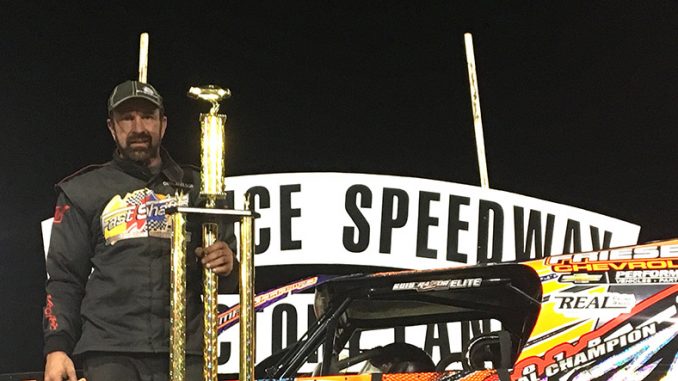 BEATRICE, Neb. (Sept. 23) – Chris Abelson wrapped up his 2016 Xtreme Motor Sports IMCA Modified campaign with his 31st victory of the season Friday at Beatrice Speedway's September Fest.
The checkers were worth $1,500 and came ahead of Jordan Grabouski and Dylan Smith as driv­ers with national championships on their resumes finished 1-2-3. Travis Hatcher and Jordy Nel­son completed the top five.
Abelson had started sixth and made his way to the front in the first handful of laps.
"When we went out before the race it felt like the track was taking rubber from the middle on up, so that's where I ran," Abelson said. "I figured everybody else would run the bottom."
Grabouski was able to pull ahead on several occasions in the later laps but Abelson was scored first every time around.
"We've had a pretty good season," said Abelson, already on the ballot for next year's Fast Shafts All-Star Invitational. "Our goal this year was to follow the Hawkeye Dirt Tour and we won that. We won the Tiny Lund, then a qualifier and finished second at Super Nationals. We don't have any­thing to complain about."
Kyle Vanover was the $500 IMCA Sunoco Stock Car winner, ahead of Mike Nichols and Dan Nel­son. Lance Borgman also took home $500 after winning the Karl Chevrolet Northern SportMod feature. Kyle Prauner was second and Nelson Vollbrecht took third.
Roy Armstrong topped the $300 to win IMCA Sunoco Hobby Stock main event. Damon Richards and Jeff Watts rounded out the top three.
Dillon Richards' win in the Mach-1 Sport Compact feature paid $200. Second was Cole Krichau and Ramsey Meyer ran third.
Saturday's September Fest program was rained out.
Feature Results
Modifieds – 1. Chris Abelson; 2. Jordan Grabouski; 3. Dylan Smith; 4. Travis Hatcher; 5. Jordy Nelson; 6. Johnny Saathoff; 7. Tyler Frye; 8. Robert Brinkman; 9. Tom Charles; 10. David Trauer­nicht; 11. Micah Veleba; 12. Bob Zoubek; 13. Scott Smith; 14. Jim Mathieson; 15. Josh Blumer; 16. Shane DeMey; 17. Trevor Barker; 18. Brandon Spanjer; 19. Anthony Roth; 20. Steven Bow­ers Jr.; 21. Justin Zeitner; 22. Rik Gropp; 23. Kyle Olberding; 24. Aaron Pella.
Stock Cars – 1. Kyle Vanover; 2. Mike Nichols; 3. Dan Nelson; 4. Dustin Schmidt; 5. Tyler Phelps; 6. John Meyer; 7. Alvie Christofferson; 8. Jason Kreft; 9. Cory Dumpert; 10. Kyle Dum­pert; 11. Anthony Robertson; 12. Eric Bartels; 13. Gary Laflin; 14. Eric Rempel; 15. Brandon Conk­wright; 16. Colton Miller; 17. Bob Aspenleiter; 18. Shane Stutzman.
Northern SportMods – 1. Lance Borgman; 2. Kyle Prauner; 3. Nelson Vollbrecht; 4. Benji Legg; 5. Devyn Peterson; 6. Jesse Skalicky; 7. Taylor Metz; 8. Karl Brewer; 9. Cameron Meyer; 10. Lee Horky; 11. Rick Rohr; 12. Joe Feyen; 13. Austin Charles; 14. Brian Davidson; 15. Andrew Whitmore; 16. Nate Thompson; 17. Adam Armstrong; 18. Mark Leiting; 19. Derek Hall; 20. Eric Chab; 21. Scott Bivens; 22. Mary Lenz; 23. Greg Metz; 24. Anthony Kobus.
Hobby Stocks – 1. Roy Armstrong; 2. Damon Richards; 3. Jeff Watts; 4. Chad Borgman; 5. Jesse VanLaningham; 6. Brendon Stigge; 7. Mark Saathoff; 8. Tyler Saathoff; 9. Travis Blythe; 10. Aaron Rudolph; 11. TeJay Mielke; 12. David Carter; 13. Bill Parde; 14. Tyler Davis; 15. Jacob Harms; 16. Nick Ronnenbaum; 17. Brady Larkins; 18. Brett Saathoff; 19. Ben Becher; 20. Jeff Ware; 21. Ryan Roschewski; 22. Kyle Hein; 23. Kevin Van Laningham; 24. Chris Klein.
Sport Compacts – 1. Dillon Richards; 2. Cole Krichau; 3. Ramsey Meyer; 4. Denny Berghahn Jr.; 5. Nick Lindblad; 6. Ronda Mewes; 7. Zach Bohlmeyer; 8. Alexis Richards; 9. R,J. Maas; 10. Joelle Reynolds; 11. Rick Hollandsworth; 12. Neal Reynolds; 13. Justin Schmidt; 14. Nathan Wahl­strom; 15. John Martinez; 16. Dustin Brethouwer; 17. Spencer Pavey III; 18. Nate Pospichal; 19. Drake Bohlmeyer; 20. Josh Black; 22. Shawn Hein.