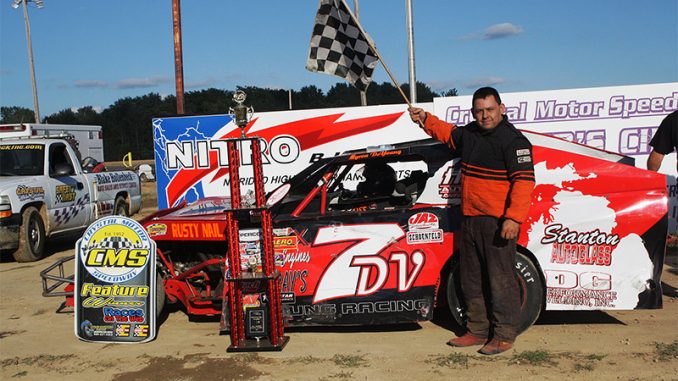 CRYSTAL, Mich. (Sept. 18) – The pre-race strategy Myron DeYoung laid out for Sunday's 50-lap main event at Crystal Motor Speedway paid off with his career fifth Great Lakes Nationals victory and a $3,000 share of the purse.
DeYoung caught race-long leader Jeff Kohn with just two laps left to win the Xtreme Motor Sports IMCA Modified headline event.
"It was great. The last couple years we were leading and had mechanical difficulty," said DeYoung. "This year I saved my tires and put myself in a position to win. I told my son Brenten the same thing and he ended up third."
Kohn was runner-up while Gary VanderMark was fourth and Joe Fowler fifth. "B" feature winner Heath Grizzle started 18th and finished sixth.
DeYoung started sixth and ran third much of the way behind A.J. Ward and Kohn. After catching Ward with a dozen laps to go, he set his sites on the leader and was closing the gap before the late yellow waved.
Contender Chad Wernette exited for the pits following that caution. DeYoung tried the high side before slipping underneath Kohn and leading to the checkers.
"Every race we win is great," he said following IMCA career victory number 111. "I've always been for­tunate to have good people around me. It's even more exciting to win when they see how all the hard work pays off."
Six of DeYoung's eight wins this season came at Crystal; he was already on the ballot for next year's Fast Shafts All-Star Invitational, having won a midweek special last month at Tri-City Motor Speedway.
Feature results – 1. Myron DeYoung; 2. Jeff Kohn; 3. Brenten DeYoung; 4. Gary VanderMark; 5. Joe Fowler; 6. Heath Grizzle; 7. Austin Wonch; 8. Cody Bauer; 9. Shannon Fisk; 10. Matt Szecsodi; 11. Rusty Zeigler; 12. Brady Hollenbeck; 13. A.J. Ward; 14. Cory Ruesink; 15. Ken Zei­gler; 16. Chad Wernette; 17. Kody Johnson; 18. Vern Buskirk; 19. Calvin Stemler; 20. Brian Roark; 21. Chaz Pray; 22. Mitchell Hunt; 23. Jimmy Hale Jr.; 24. Scott Glidden.
Heat winners were Ward, Myron DeYoung, Bauer and Wernette. "B" feature winners were John­son and Grizzle.