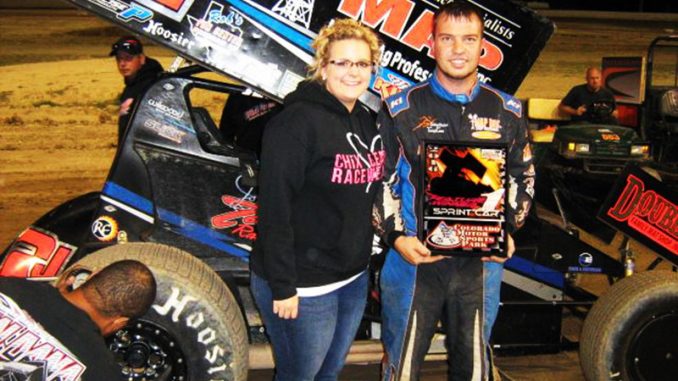 BYERS, Colo. (Sept. 17) – Zach Blurton had the field covered when the United Rebel Sprint Se­ries rolled into Colorado Motor Sports Park for a Colorado Region points battle Saturday night.
Pole starter Todd Plemons led the first 12 circuits before Blurton reeled him in. There was no change in the front five before Justin Medlock made the pass as the white flag flew, relegating Plemons to third.
When the checkers fell it was Blurton picking up his fifth win of the 2016 URSS season with Med­lock and Plemons rounding out the top three.
Blurton also picked up the Keizer Aluminum Wheels Hard Charger Award after moving up from sixth for the win.
Feature
 results – 1. Zach Blurton; 
2. Justin Medlock
; 3. Todd Plemons; 
4. Mark Walinder; 
5. Mark Chisholm; 
6. Luke Lucero
; 7. Brandon Tubbs; 
8. Scott Rhoades; 9. Austin McLean.