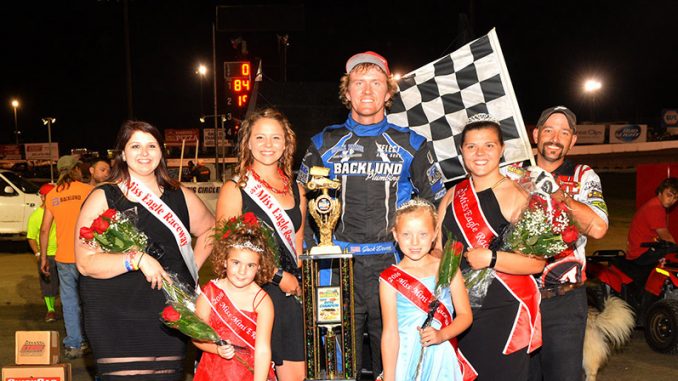 By Greg Soukup
EAGLE, Neb. (Sept. 4) – A record-setting IMCA RaceSaver Sprint Nationals ended with a familiar face in victory lane at Eagle Raceway.
Jack Dover built up a big lead in Sunday's 35-lap main event, then had just enough cylinders left to take the $2,500 victory ahead of Californian Blake Robertson.
"We dropped a cylinder about 10 laps in and I could feel the car getting slower," said Dover, also champion of the 2014 event. "The yellow came out with three laps to go and I was praying the motor would get me to the checkers."
A record 117 drivers from 15 states competed in the fourth annual Nationals and eight states were represented in the main event for IMCA EMI RaceSaver Sprint Cars on Sunday.
Jason Martin, Andy Shouse and Tyler Drueke completed the top five.
"It's always fun to win an event like this twice," said Dover. "Sprint Nationals is a very prestigious event. To get your name on the list of drivers who have won it is awesome."
Dover was a two-time winner at Eagle during the regular season and made another visit to victory lane following a Sprint Series of Nebraska feature at Beatrice.
Defending champion John Carney II was running in the top three, chasing Chad Wilson and Dover before becoming the casualty of an early incident.
Dover took the lead two laps later while Trevor Grossenbacher and Martin got past Shouse to advance to third and fourth, respectively, on lap 11. Martin passed Grossenbacher on lap 16. Wilson was passed by Martin on lap 19.
The next 13 laps stayed green before Wilson spun out with three to go, making the top four Dover, Martin, Shouse and Drueke for the restart.
Robertson moved back to fourth on the restart and kept advancing, taking third the next time around and passing Martin for second after another circuit.
Robertson had lined up eighth on the original grid, got up to fifth and then fell back to 12th before he started working his way toward the front.
"For as many cars as were there, I was definitely happy with how I finished," he said. "I definitely wanted to win it but we just came up a little short. The racing was tremendous all three days."
Dover and Drueke were $700 qualifying feature winners on Friday and Saturday, respectively. Martin was the $1,000 winner of Saturday's Jake Ita Memorial Race of Champions.
Sprint Nationals was presented by Precise Racing Products and NCM/The Cat Rental Store.
Feature results – 1. Jack Dover, Springfield; 2. Blake Robertson, Visilia, Calif.; 3. Jason Martin, Lincoln; 4. Andy Shouse, Mustang, Okla.; 5. Tyler Drueke, Eagle; 6. Trevor Grossenbacher, Hickman; 7. Kevin Ramey, Fort Worth, Texas; 8. Jake Bubak, Arvada, Colo.; 9. Toby Chapman, Panama; 10. Stuart Snyder, Waverly; 11. Shon Pointer, Grand Island; 12. Mark Watkins, McConnelsburg, Pa.; 13. Darren Berry, McCook, Neb.; 14. Dusty Ballenger, Harrisburg, S.D.; 15. Chad Koch, Lakeside City, Texas; 16. Shayle Bade, Lincoln; 17. Luke Cranston, Holcomb, Kan.; 18. Nate Weiler, Omaha; 19. Matt Richards, Lincoln; 20. Gene Ackland, Martell; 21. Chad Wilson; 22. Adam Gullion, Lincoln; 23. John Carney II, Lubbock, Texas; 24. Dave Brown Jr., Aston, Pa.; 25. Clint Benson, Papillion; 26. Tyler Russell, Abbott, Texas; 27. Mike Boston, Lincoln.
Friday qualifier – 1. Dover; 2. Carney; 3. Wilson; 4. Pointer; 5. Martin; 6. Shouse; 7. Grossenbacher; 8. Robertson; 9. Gullion; 10. Ramey; 11. Cranston; 12. Bubak; 13. Chapman; 14. Gregg Bolte, Lincoln; 15. Ballenger; 16. Michael Day, Greenville, Texas; 17. Jaremi Hanson, Dillsburg, Pa.; 18. Russell; 19. Ackland; 20. Snyder.
Saturday qualifier – 1. Drueke; 2. Snyder; 3. Chapman; 4. Bubak; 5. Benson; 6. Boston; 7. Bade; 8. Watkins; 9. Cranston; 10. Brandon Horton, Omaha; 11. Richards; 12. Weiler; 13. Koch; 14. Cody Ledger, Omaha; 15. Zachary Newlin, Millerstown, Pa.; 16. Michael Stien, Ceylon, Minn.; 17. Ackland; 18. Chris Kelly, Oklahoma City, Okla.; 19. Dan Satriano, Papillion; 20. Jimmy Grasso, Omaha.
Jake Ita Memorial Race of Champions – 1. Martin; 2. Dover; 3. Robertson; 4. Carney; 5. Zach Blurton, Quinter, Kan.; 6. Drueke; 7. Gullion; 8. Ty Williams, Arcadia, Okla.; 9. Robby Wolfgang, Sioux Falls, S.D.; 10. Newlin; 11. Claud Estes, Godley, Texas; 12.  Watkins; 13. Day; 14. Drew Ritchey, Everett, Pa.; 15. Jerald Harris, Harrisonburg, Va.; 16. Tom Humphries, Waynesboro, Va.; 17. Russell; 18. Shouse; 19. Mike Houseman, Des Moines, Iowa; 20. Ballenger.