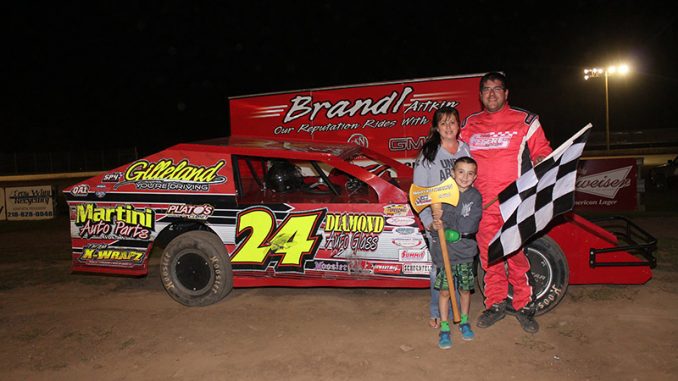 BRAINERD, Minn. (Aug. 26-27) – Eric Martini's efforts to win the Mighty Axe Nationals took five years while Billy Kendall needed just seven minutes to race his way to the top step of the Modified podium at North Central Speedway.
Martini topped Friday's Xtreme Motor Sports IMCA Modified headliner at Brainerd and earned $1,000, Kendall's Saturday checkers were good for $1,200 and their wins landed both drivers on the 2017 Fast Shafts All-Star Invitational ballot.
Martini gained the Friday lead on the fifth of 25 laps, passing Erick Thiesse on the bottom and josh Beaulieu on the top. He led to the finish, holding off Don Eischens, Larry Zeller and Kendall in check following numerous restarts in the final laps.
"I've called this the Elusive Axe for years. I've tried to win it for five years but something always happened," he said. "My son Cameron told me I'd have to hang it up if I didn't win it this year."
Like Martini on opening night, Kendall drew the third starting spot on Saturday. He needed a bit longer – 15 laps – to get the lead, passing Eischens to win in a feature that ran caution-free and took just seven minutes to complete.
"I've run the Mighty Axe in a pure stock, a SportMod, a street stock and now a Modified. This was the first time I've won it," said Kendall, who was close to a straightaway ahead of Eischens at the finish. ""Last year I was close with second and third-place finishes. It's nice to finally get one. There were a lot of good drivers here."
Shawn Fletcher was third and fourth went to Aaron Johnson. Kendall pocketed the additional $200 for having raced both nights.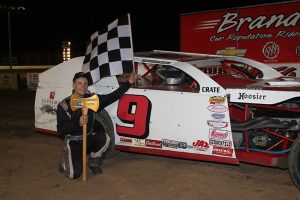 Four hundred dollar Karl Chevrolet Northern SportMod feature winners were Ashley Mehrwerth on Friday and her brother Brandon on Saturday.
David Siercks was runner-up both nights while third went to Bud Martini on Friday and to Tim Siercks on Saturday.
Robert Young Jr. swept the $275 to win IMCA Sunoco Hobby Stock features, ahead of Timothy Gonska and David Dosh on opening night and Tom Anderson and Gonska on night two.
Brendon Yamry was also a double winner, picking up $100 Mach-1 Sport Compact victories in front of Terry Blowers and Derek Stanoch both nights.
Aug. 26 Feature Results
Modifieds – 1. Eric Martini; 2. Don Eischens; 3. Larry Zeller; 4. Billy Kendall; 5. Josh Beaulieu; 6. Ryan Canon; 7. Tyler Mecl; 8. Aaron Johnson; 9. Josh Anderson; 10. Lance Schilling; 11. Craig Larson; 12. Erick Thiesse; 13. Clayton Caird; 14. Josh Larsen; 15. Mark Prueser; 16. Tony Yezek; 17. Jerry Esler; 18. Justin Jones; 19. Troy Jordan; 20. Shawn Fletcher.
Northern SportMods – 1. Ashley Mehrwerth; 2. David Siercks; 3. Bud Martini; 4. Jacob Hagemann; 5. A.J. Viehauser; 6. Jason Vejtruba; 7. Jacob Jordan; 8. Mitchell Kittridge; 9. Dustin Joel; 10. David Slovick; 11. Erik Gruhlke; 12. Jacob Kierstead; 13. Kayla Schmidt; 14. Brandon Norgard; 15. Brandon Mehrwerth; 16. Tim Smith; 17. Vic Schmidt; 18. Tim Siercks; 19. Mike Brenny; 20. Dru Nelson; 21. Thomas Joel.
Hobby Stocks – 1. Robert Young Jr.; 2. Timothy Gonska; 3. David Dosh; 4. Rod Larson Jr.; 5. Chris Seidel; 6. Austin Niemeyer; 7. Shayne Pankratz; 8. Tom Anderson; 9. Joe Gonska; 10. Jared Danberry; 11. Mike Vogt.
Sport Compacts – 1. Brendon Yamry; 2. Terry Blowers; 3. Derek Stanoch; 4. Drew Johnson; 5. Trista Pankratz; 6. Austin Goedker; 7. Nicole Blaisdell; 8. Addy Young; 9. Calvin Saldona; 10. Eric Pfundt; 11. Shelly Joel; 12. Dean Blanchard Sr.; 13. Chris Lehnen; 14. Curt Derichs; 15. Devin Dustin-Flannigan.
Aug. 27 Feature Results
Modifieds – 1. Kendall; 2. Eischens; 3. Fletcher; 4. Johnson; 5. Canon; 6. Martini; 7. Beaulieu; 8. Anderson; 9. Craig Larson; 10. Schilling; 11. Jones; 12. Esler; 13. Prueser; 14. Yezek; 15. Mecl; 16. Thiesse; 17. Caird; 18. Jordan.
Northern SportMods – 1. Brandon Mehrwerth; 2. David Siercks; 3. Tim Siercks; 4. Hagemann; 5. Adam Bohlman; 6. Viehauser; 7. Alan Bohlman; 8. Ashley Mehrwerth; 9. Slovick; 10. Nelson; 11. Norgard; 12. Jordan; 13. Vejtruba; 14. Dustin Joel; 15. Kierstead.
Hobby Stocks – 1. Young; 2. Anderson; 3. Timothy Gonska; 4. Dosh; 5. Seidel; 6. Danberry; 7. Niemeyer; 8. Cody Lodermeier; 9. Joe Gonska; 10. Larson; 11. Pankratz.
Sport Compacts – 1. Yamry; 2. Blowers; 3. Stanoch; 4. Brittany Smith; 5. Blaisdell; 6. Blanchard; 7. Pankratz; 8. Joel; 9. Dawson Kimble; 10. Derichs; 11. Young; 12. Dustin-Flannigan; 13. Lehnen; 14. Goedker; 15. Markia Smith.