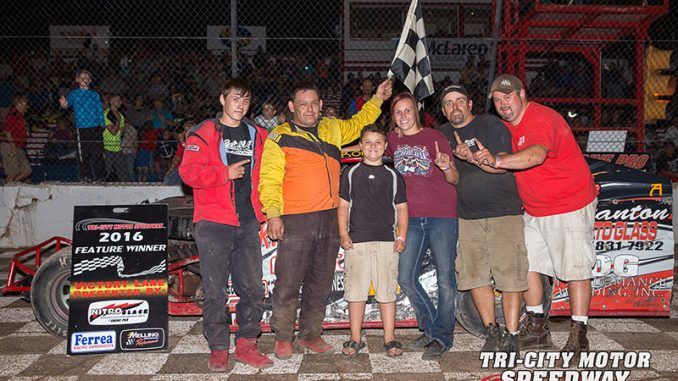 AUBURN, Mich. (Aug. 24) – Myron DeYoung raced his way onto the Fast Shafts All-Star Invitational ballot and picked up a bonus doing it at Tri-City Motor Speedway's midweek special.
DeYoung earned $1,225 for his Main Street Seed and Supply IMCA Modified victory and picked up bonus money on top of that check for ending A.J. Ward's winning streak.
The IMCA Modifieds had 28 drivers check in for the opportunity to win big money by winning their 40-lap feature.
Todd Matheson and Chaz Pray brought the field to the initial green flag. Matheson set the early pace before Matt Szecsodi reeled him in and made the pass by lap nine.
Defending champion DeYoung eventually overtook Szecsodi just past the halfway point of the race. The 12th starting Ward was having difficulty getting to the front but by the closing laps found himself in the top five.
Ward's run to the front ended when he got tangled up with the lapped car of Rusty Zeigler, went off the top of turn three and was sent to the rear with just three laps remaining.
On the restart, DeYoung pulled away from the field to pick up the win and the bounty on Ward.  DeYoung was followed across the stripe by Szecsodi, Brenten DeYoung, Craig Vance and Joe Fowler.