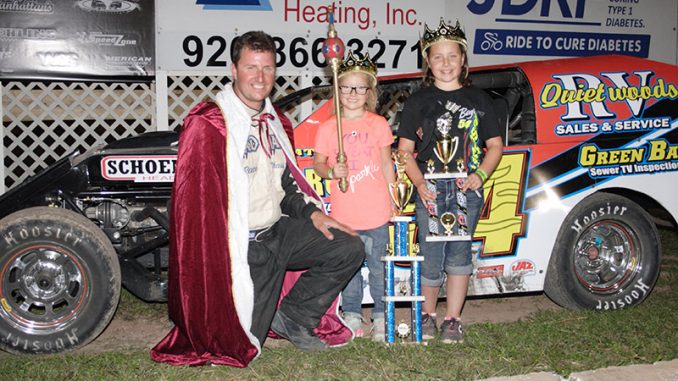 OSHKOSH, Wis. (Aug. 26) – Benji LaCrosse clinched King of the Ring honors with his Friday Xtreme Motor Sports IMCA Modified feature win at Oshkosh SpeedZone Raceway.
The third leg of King of the Ring saw Marcus Yarie and LaCrosse tied for the series lead.  Both won their heat races, and started the main event in row two.
It was LaCrosse who made the early move and took the lead after the opening lap with Dan Roedl, Yarie, Jeremy Christians, Tim Robbins and Brian Drexler behind.  LaCrosse hooked mid­way up the track and Roedl was running the outside line.  The rest of the field was bunched two and three-wide behind.
Yarie moved up to second on lap four and was just behind the leader. A lone caution appeared on lap nine with LaCrosse and Yarie still leading the way. Roedl was holding third while Tim Lemi­rande was the quickest car in the field having moved from his 16th starting spot into fourth for the restart.
With the green flag out for the balance of the 30-lapper, it was flat-out throughout the field with LaCrosse and Yarie showing the way. By lap 20, the leaders had pulled away a bit with Lemi­rande running in third.
LaCrosse was running in lapped traffic while keeping Yarie at bay. That changed on lap 21 when Yarie pulled off the track and into the infield after a belt broke on his car.
All that was left for LaCrosse to do was continue to work traffic and he not only won his second race of the series and third of the season, but clinched the King of the Ring tile by completing the contest well ahead of Lemirande. Mike Mullen was third.
Forty-seven Modifieds vied at Oshkosh.