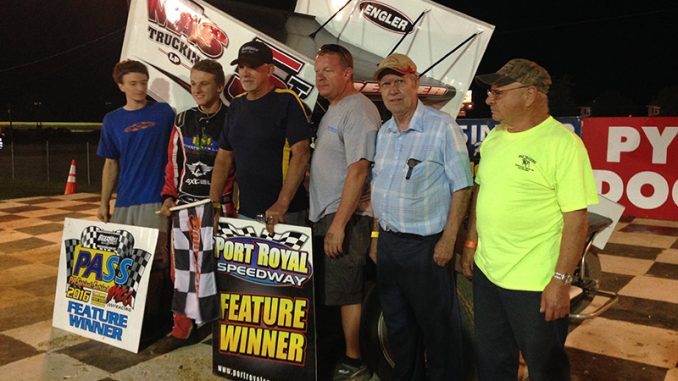 PORT ROYAL, Pa. (Aug. 27) – Once he got to the front, there was no catching Tyler Reeser in Saturday's Pennsylvania Sprint Series feature at Port Royal Speedway.
Drew Ritchey drove from his fourth starting spot into the lead on the fourth lap of the 18-lap main event for IMCA EMI RaceSaver Sprint Cars, overtaking Scott Ellerman for control.
Ritchey threatened to run away for his first-ever oval victory but a caution bunched the field and placed Jeff Miller and Reeser on his tail for the restart.
Reeser pounced on Miller for second at the new green and then blasted past Ritchey for control a lap later.
Reeser then pulled away to his second win of the year at the track. 
Miller then also got around Ritchey for second. 
Ritchey rode home third followed by Scott Ellerman and Cale Reigel.
Feature results – 1. Tyler Reeser; 2. Jeff Miller; 3. Drew Ritchey; 4. Scott Ellerman; 5. Cale Rei­gel; 6. Reed Thompson; 7. Darren Miller; 8. Mark Watkins; 9. Ken Duke Jr.; 10. Kyle Ganoe; 11. Kyle Smith; 12. Nathan Gramley; 13. Colby Dice; 14. Zach Newlin; 15. John Martin; 16. Kirsten Hess; 17. Dale Schweikert; 18. Derrick Bowersox; 19. Joey Kay; 20. Stephanie Dodson; 21. Erin Statler; 22. Danny Stratton; 23. Dave Guss Jr.; 24. Dylan Shatzer.