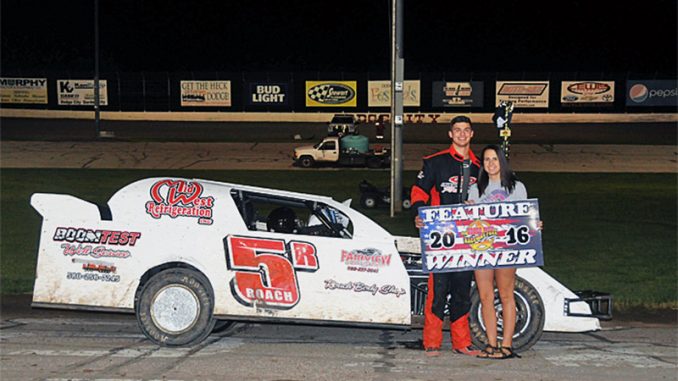 By Lonnie Wheatley
DODGE CITY, Kan. (Aug. 27) – Kaleb Roach pocketed the $1,000 winner's share in the third annual IMCA SportMod Mayhem special at Dodge City Raceway Park.
Roach battled past Dustin Daniels with just seven laps to go in the 30-lapper and held on the rest of the way to earn victory honors.
Roach and Daniels started from the front row and battled throughout for the top spot, exchanging the lead several times along the way before Roach took command for keeps on the 23rd circuit.
Daniels had one last at running down the leader after a final caution with five laps to go, but Roach was flawless on the top side to preserve the victory.
Feature results – 1. Kaleb Roach; 2. Dustin Daniels; 3. Austin Walker; 4. Jeff Kaup; 5. Jeremy Sigler; 6. Bart Baker; 7. Kevin Tabor; 8. Brian Davidson; 9. Jamie French; 10. Brian May; 11. Matthew Crowell; 12. Edwin Elliott; 13. Steve Dent; 14. Scott Clausson; 15. Alex Wiens; 16. Tanner Brunson; 17. Marvin Ward; 18. Don Strecker; 19. Terry Collins; 20. Garrett Donley; 21. Kyle Wiens; 22. Jesse Hoskins; 23. Joey Maupin.