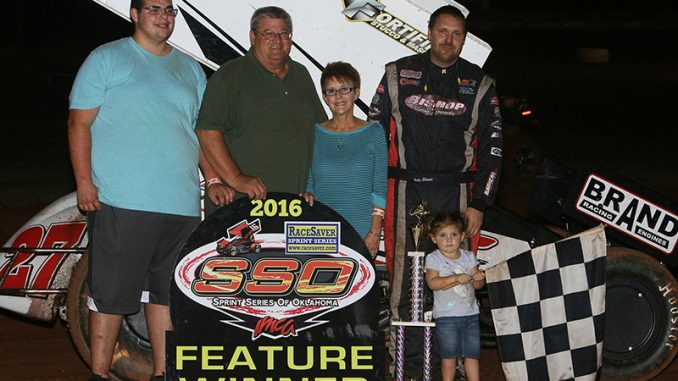 By David Smith Jr.
MEEKER, Okla. (Aug. 27) – Point leader Andy Shouse started on the pole and held off a last lap challenge by Jake Martens to win his first Sprint Series of Oklahoma IMCA EMI RaceSaver Sprint Car feature of the season Saturday at Brill Motor Speedway's inaugural Pat Suchy Memorial.
Shouse began to enter lapped traffic entering turns three and four on the final circuit as Martens dove low entering the same turns and tried to slide in front of Shouse. The current national point leader held on, however, to take his first series feature victory of the season by just one car length.
Chad Koch held on for third while Blake Dacus and Joe Wood Jr. rounded out the top five.
Shouse and Dacus started on the front row for the 25-lap feature with Shouse taking the lead as the green flag fell. By lap five, Shouse had opened a 10-car length advantage over Dacus and approached slower cars on lap nine. Shouse, working the bottom of the track, stretched his ad­vantage to a half stretch lead at midway.
Lap 17 saw the night's final caution flag fall and set up an eight lap dash to the checkered flag.
The Sprint Series of Oklahoma will be back in action in three weeks for a doubleheader weekend. It all starts on Friday night, September 16, at Southern Oklahoma Speedway in Ardmore before heading to Longdale Speedway in Longdale, Okla., where they will join forces with the Kansas-based United Rebel Sprint Series.
Feature results – 1. Andy Shouse; 2. Jake Martens; 3. Chad Koch; 4. Blake Dacus; 5. Joe Wood Jr.; 6. Shayla Waddell; 7. Cody Whitworth; 8. Lloyd Clevenger; 9. Brandon Long; 10. Sheldon Barks­dale; 11. Brandon Jennings; 12. Chris Kelly; 13. Alison Slaton; 14. James Fabian; 15. Tan­ner Conn; 16. Jerry Jumper; 17. Mike Scott; 18. Chuck Bellefeuille; 19. Justin Fisk; 20. Joseph Miller; 21. Sterling Huff.