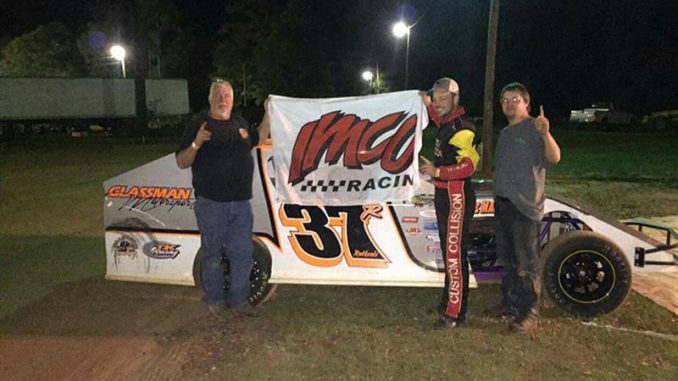 FLOMATON, Ala. (Aug. 6) – Kyle Rutkoski's continued Bay Area Emerald Coast Tour success has put him on the ballot for the 2017 Fast Shafts All-Star Invitational.
Rutkoski won Saturday's Xtreme Motor Sports IMCA Modified feature and $1,000 during the Jar­rod Johns Memorial program at Flomaton Speedway.
Rain delayed the drop of the green. Once the main event got underway, Brandon Harris took the early lead as Josh Goodwin tried to reel him in.
Rutkoski made his way to the front and set his sights on the big check.
In the closing laps, Jason Barnhill tried every line to make up the distance was trying to catch Rutko­ski.
Barnhill made it to Rutkoski's bumper but ran out of laps to get around him and Rutkoski scored his fourth straight checkers.
Feature results – 1. Kyle Rutkoski; 2. Jason Barnhill; 3. Brandon Harris; 4. Scott Sessions; 5. Greg Hopkins; 6. Thumper Grice; 7. Jason Messick; 8. Dale Peaden; 9. Jesse Barnhill; 10. Derek Long; 11. Josh Goodwin.