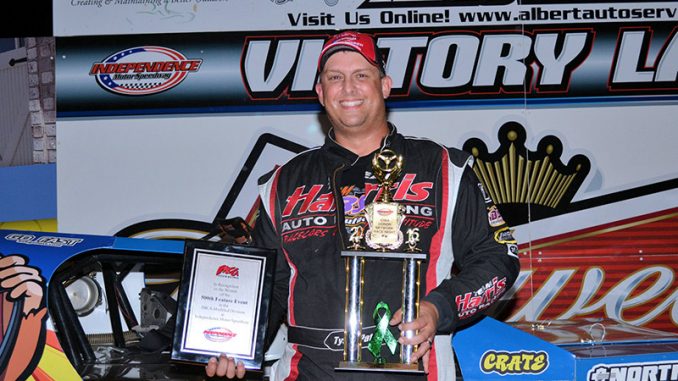 By Bucky Doren
INDEPENDENCE, Iowa (Aug. 6) – It was a double milestone night Saturday at Independence Motor Speedway. On the night the track celebrated its 500th IMCA Modified feature event, driver Tysus Pattee scored his first career win in that division.
Despite his front row starting spot, Pattee had to work hard for his first career win. Three late cau­tion flags tightened the field behind him. Jenae Gustin, who also scored her first two career IMCA Modified wins at Indee, and Ronn Lauritzen tried to keep pace on those three restarts, but Pattee was able to pull away for the historic win.
Gustin settled for second. Lauritzen drove from the 11th place starting spot to finish third. Ryan Mait­land finished fourth and Vern Jackson rounded out the top five.
Pattee's win paid $500 plus a $100 bonus.
Tom Schmitt pulled into Budweiser Victory Lane and landed a $500 payday, courtesy of Local Vizion, for his win in the Burco Sales IMCA Stock Car A-Main win.
Rick Wendling put on a dominating performance during the Budweiser IMCA Late Model feature event. He was able to get out front on lap six and then able to pull away.
During the Albert Auto IMCA Northern SportMod feature, sixth row starters Tony Olson and Andy Edwards worked their way through the field to battle for the win. Olson was able to hold off Ed­wards for the victory.
Shawn Kuennen had to hold off a huge pack for the Christie Door Company IMCA Sunoco Hobby Stock win.
Feature results – 1. Tysus Pattee; 2. Jenae Gustin; 3. Ronn Lauritzen; 4. Ryan Maitland; 5. Vern Jackson; 6. Troy Cordes; 7. Scott Hogan; 8. J.D. Auringer; 9. Patrick Flannagan; 10. Kaleb Bent­ley; 11. Brennen Chipp; 12. Dennis Betzer; 13. Robert Whalen; 14. Zach Less; 15. Austin Bishop; 16. Todd Jensen; 17. Trent Jochimson; 18. Brandon Maitland; 19. Terry Johnson; 20. Dan Praska; 21. Mike Burbridge; 22. Ed Thomas; 23. Jason Morehouse; 24. Leon Wilson; 25. Rod McDonald; 26. Justin Buhler; 27. Bryce Carey.