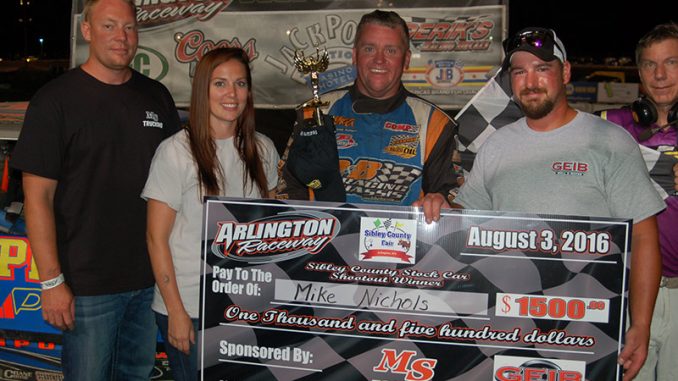 ARLINGTON, Minn. (Aug. 3) – Mike Nichols added his first-ever win in Minnesota to his collection of 400-plus IMCA Sunoco Stock Car checkers Wednesday night.
Nichols topped the $1,500 to win Sibley County Stock Car Shootout at Arlington Raceway, outrunning a host of home state heroes.
"This was just the second time I've even raced in Minnesota. The first time was an October race at Jackson in 2000 or 2001, so it's been a while," he said. "Arlington is pretty similar to Shelby County Speedway (in Harlan, Iowa), my Saturday night track, so I kind of felt at home."
Nichols started the 25-lapper from inside row four. He was in the lead by lap five and battled Arlington regular Dan Mackenthun much of the distance.
Two cars running in the top five brought out the only caution of the race on lap 20; mid-pack starter Derek Green found the fast line late and took over second but ran out of laps in his pursuit of the leader.
Mackenthun, Matt Schauer and Luke Sathoff rounded out the top five.
The current point leader in the chase for a record sixth national championship in the division, Nichols scored his 42nd win of the season at the midweek special.
Jared Boumeester's Karl Chevrolet Northern SportMod victory paid $750 and came in front of Eric Larson and Tim Bergerson.
Cory Probst scored the $400 IMCA Sunoco Hobby Stock checkers ahead of Matt Olson and Brian Loscheider.
Feature Results
Stock Cars – 1. Mike Nichols; 2. Derek Green; 3. Dan Mackenthun; 4. Matt Schauer; 5. Luke Sathoff; 6. Brent Uecker; 7. David Moriarty; 8. Jeff Holstein; 9. Andrew Altenburg; 10. Shaun Bruns; 11. Dan Dhaene; 12. Jake Bruns; 13. Jeff McCollum; 14. Ryan Grochow; 15. Gary Mattison; 16. John Polifka; 17. Josh Telecky; 18. Kevin LaTour; 19. Chad Schroeder; 20. Matt Speckman; 21. Jason Helmbrecht; 22. Dean Cornelius.
Northern SportMods – 1. Jared Boumeester; 2. Eric Larson; 3. Tim Bergerson; 4. Matt Looft; 5. Dustin Engelke; 6. Kevin Kirk; 7. John Albrecht; 8.  Jeremy Brown; 9. Tony Rialson; 10. Tom Malchow Jr.; 11. Max Anderson; 12. Joe Maas; 13. Eric Bassett; 14. Zach Schultz; 15. Denton Strassburg; 16. Jeff Lloyd.
Hobby Stocks – 1. Cory Probst; 2. Matt Olson; 3. Brian Loscheider; 4. Mike Vogt; 5. Corey Schultz; 6. Brad Becker; 7. Patrick Oestreich; 8. Ashelyn Moriarty; 9. Sarah Moriarty; 10. Rodney Manthey; 11. Ben Reierson; 12. Andrew LaTour; 13. Zachary Foesch; 14. Roger Jenniges; 15. Frank Billmeier; 16. Matt Hanson; 17. Shawn Harms; 18. Tony Winters.