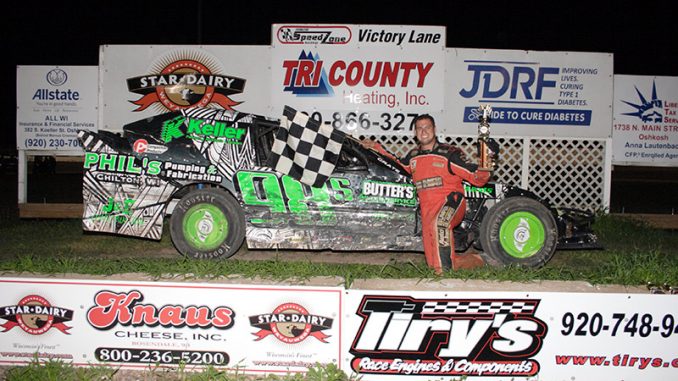 OSHKOSH, Wis. (July 29) – Tim Schneider celebrated his birthday and the Nolte's Auto Repair and Towing IMCA Sport Mod feature win at Oshkosh SpeedZone Raceway.
Jason Ebert took control of the main event while Schneider worked from mid-pack through tight traffic into the runner-up spot.  Tim Sheppard, Kevin Bethke and Scott Besaw were right behind.
A lap eight caution slowed the field and Schneider remained right behind after the restart with Bethke, Adam Peschek, Besaw and Brock Saunders in line. Schneider dipped inside at the line on lap 15 and eased into the lead in turn one.
A final restart on lap 16 allowed Schneider to pull away from the field as a dogfight for second lasted to the finish. Ryan Besaw moved up over the final laps to take second. Jason Vandenberg made a solid run on the outside to take third place, his best finish of the season. Bethke and Ebert completed the top five.
After an opening lap caution, Mitch Stankowski grabbed the lead in the Automotive Supply Com­pany IMCA Modified feature, setting the pace for the first three laps before Brian Crapser took charge before a caution slowed the field.
On the restart, Chad Bartel took the outside route for the lead. Steve Schneider moved into the runner-up spot on lap nine and set out to catch the leader.  A spin on lap 18 bunched the field for a two-lap dash.
Bartel held off the late charge from Schneider to take his second feature win of the season here. Schneider, Dan Roedl and Crapser took the top four places with point leader Marcus Yarie fifth.
Cory Wegner set the opening lap pace for the Jim's Auto Repair IMCA Stock Cars with Jerry Kope taking over the lead after a lap two restart.  Travis Van Straten, Aaron Stolp and Chase Par­ker were making their way through the tight pack and on lap six, Van Straten found his way into the top spot and started to open a lead.
Stolp and Kope  ran for second with Jerry Winkle finally breaking out of the pack and  closed the gap and took over the runner-up spot on lap 16.
A final caution appeared on lap 17, erasing Van Straten's lead and giving Winkler a shot at a se­cond straight victory.  Van Straten was up to the task after the final restart and took off to collect his sixth feature win of the season.  Winkler was right behind in second with Stolp, Kope and Da­vid Hoerning rounding out the top five.
The 2016 Walk of Fame class was inducted at intermission and included Denny Hughes, Jerry "Medina" Smith, Jerry Krueger and Gene Wheeler.
One hundred and seventeen cars saw action at Oshkosh.