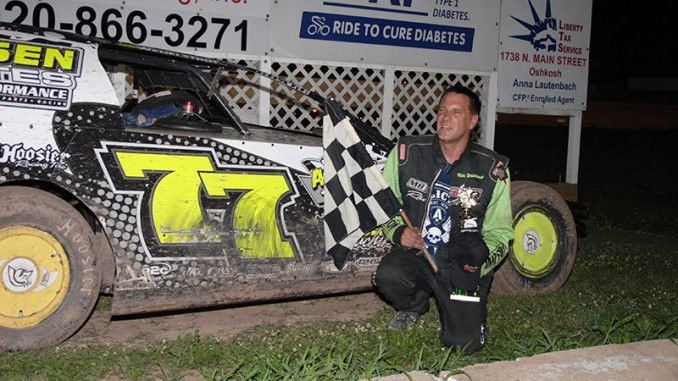 By Dave Panske
OSHKOSH, Wis. (July 22) – Mike Wedelstadt took command at the start and led all 20 laps of Friday's King of the Ring feature for Xtreme Motor Sports IMCA Modifieds at Oshkosh SpeedZone Raceway.
Wedelstadt started on the front row and quickly took charge of the race. Following a quick lap two caution, Wedelstadt was chased by Paul Parker, Benji LaCrosse, Marcus Yarie, Brian Drexler and Steve Schneider.
A debris caution bunched the field again on lap 10, and the field ran the next five laps before the final amber. During that span, Wedelstadt was on cruise in front leaving a tight battle for the next five spots.
Parker, LaCrosse, Yarie, Drexler, Jeremy Christians and Dan Roedl ran in a bunch setting up a five lap sprint following the final restart.
Wedelstadt was able to maintain a slight lead over the final five laps to secure his first local fea­ture win of the season, good for $1,000 and a spot on the 2017 Fast Shafts All-Star Invitational ballot.
Yarie took the runner-up finish over LaCrosse. Parker, Jay Matthias and Christians rounded out the top six.
Jerry Winkler was the Jim's Auto Repair IMCA Stock Car winner for the first time at his home track.
Kevin Bethke captured his first Nolte's Auto Repair and Towing IMCA Northern SportMod feature win at Oshkosh since May 13, 2011.