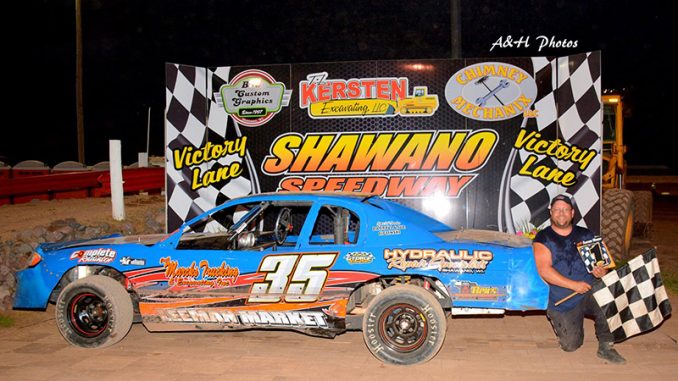 By Scott Owen
SHAWANO, Wis. (July 23) – Vern Stedjee earned a hard-fought IMCA Sunoco Stock Car feature victory, his first one ever at Shawano Speedway Saturday night.
Polesitter Kurt Olson grabbed the lead on the opening lap as Stedjee moved to second.  As Ol­son continued to lead, Mike Schmidt passed Luke Uttecht to take third on lap five. Stedjee re­mained in pursuit of Olson while Dan Michonski battled with Schmidt for third.
On lap nine, Stedjee got underneath Olson and took the lead away exiting turn four.  A caution on the next lap slowed the pace and bunched the field up.  As the race went back to green, Schmidt passed Olson for second and raced right on the rear bumper of Stedjee.
Schmidt made an inside pass on Stedjee to take the lead back on lap 14.  The duo raced side-by-side for the next two laps as Travis Van Straten joined the battle.  Stedjee put his car back in front on lap 16.
On lap 18, Olson's car erupted in flames, ending his night while running in fifth and bringing out a caution with just two laps to go.  Stedjee was smooth on the restart as Van Straten raced to his inside.  On the final lap, Van Straten got inside the leader but Stedjee would not be denied his first Shawano Speedway feature victory.
Van Straten, Schmidt, Rod Snellenberger, and Trent Nolan completed the top five.
Marcus Yarie won for the sixth time in the Xtreme Motor Sports IMCA Modifieds while Jason Jach earned his first Karl Chevrolet Northern SportMod victory of the year.
Hall of Fame saw the first-ever track champion at Shawano, Clyde Schumacher, and 1989-91 hobby stock track champion George Sweere honored as the most recent members of the speed­way's Hall of Fame.