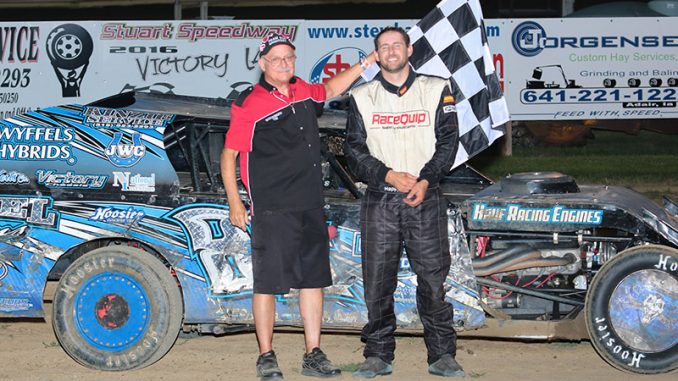 STUART, Iowa (July 24) – After three weeks with no racing, the dirt was flying Sunday night at Stuart Speedway. Marcus Fagan, John Gill, Josh Gilman, Jamie Schirm and Clint Luellen were IMCA winners on NAPA Auto Parts Night at the Races.
Todd Cooney and Gilman brought the Xtreme Motor Sports IMCA Modifieds to the line with Gil­man leading early over Jake Murray and Cooney. The top three held true until Jeff James moved past Cooney for third on lap 13. Murray closed the gap some, but there was no stopping Gilman from taking his first local win of 2016.
Murray finished a strong second with James third, Cooney fourth and Tim Ward fifth.
Joel Tigges and Derrick Rohe brought out the IMCA Stock Cars with Tigges leading lap one. Rohe came through to take the top spot for the next six laps until Tigges found a way around.
Things were looking good for Tigges until he lost the handle on lap 11 and spun in turn two, bring­ing out the caution. That turned the lead over to Chris Pruitt and he held it until Fagan powered by on lap 14. Fagan cruised to the win with Rohe second, Josh Daniels third, Pruitt fourth and Tigges fifth.
Keith Burg and Jason Day were on the front row for the start of the IMCA Sunoco Hobby Stock main. Ryan Grochala made it to the front on lap one as he led Burg and Schirm around for the first two laps.
Schirm passed Burg on lap three and set his sights on the lead. Four laps later Schirm made it a reality as he made his move on the top side. Schirm had little trouble in taking the win with Jason Day taking second, John Watson third, Grochala fourth and Buck Schafroth fifth. Grochala was the heat race winner.
The Karl Chevrolet Northern SportMods saw Thomas Egenberger and Dusty Masolini on the front row. Egenberger led lap one but his reign at the top was short-lived as Luellen took over on lap two.
Shawn Cooney made it to second on lap four and began to try to track down Luellen, but there was no stopping the driver of the 3L machine on this night as he went on to the win. Cooney fin­ished second with Kody Havens third, Adam Armstrong fourth and Chase Rudolf fifth.
Vicki Meeker and Aaron Miller led the Mach-1 Sport Compact field to green. Miller led the first lap with John Gill coming to the front on lap two. The race was on for second as Gill set sail to take the win. Miller got the best of the runner-up battle over James Roose with Meeker finishing fourth and David Coenen fifth.