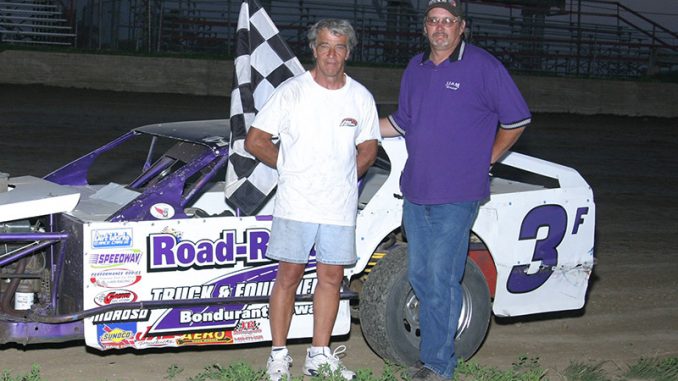 DES MOINES, Iowa – An IMCA Modified racing legend passed away Sunday in his hometown of Des Moines.
Services for Dave Farren Sr., 70 are at 2 p.m. Saturday, July 30 at Hamilton's near Highland Memory Gardens, 121 NW 60th Avenue in Des Moines.
Friends may call from 5-8 p.m. Friday, July 29 at Hamilton's. In honor of Dave's favorite color, friends are asked to wear purple.
Farren began racing an IMCA Modified in 1984; his first full season was 1985.
IMCA's national champion in 1986 and 1988, he became the all-time wins leader in the division by passing Jack Mitchell and Bobby Layne, and also won for the 100th time in his career in 1988.
His career total of 199 feature wins is now fifth all-time in the division.
"Dave was one of the early IMCA Modified drivers who made an impact on the growth of the divi­sion," said Kathy Root, former IMCA president and now chair of the sanctioning body's executive committee. "He was a true budget racer who proved you could win championships with the most basic equipment. We send our condolences to Dave's family and his many friends."
Farren's single season best win total was 32, in 1988. He won 29 features in 1986 and 24 in 1987. He won 18 local track championships between 1986 and 2001.
A nine-time qualifier for the Modified main event at the IMCA Speedway Motors Super Nationals fueled by Casey's, his career-best finish was sixth in 1985. He also qualified for the Race of Champi­ons four times.
Survivors include his wife Peggy; sons David D. Farren (Jolynne), Jim Gannon, Jr. (Kim), Tim Gannon (Ronnette); seven grandchildren and four great-grandchildren; and brother Dean Farren (Pam).
Memorials may be made to the family. 

Online condolences may be expressed at 
www.HamiltonsFuneralHome.com.