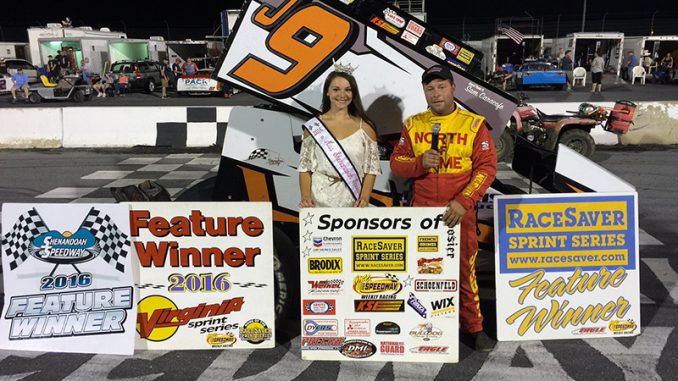 By Jim Haines
SHENANDOAH, Va. (July 23) – Jerald Harris showed the way to the finish line in Saturday night's Vir­ginia Sprint Series feature at Shenandoah Speedway.
Bill Rice and J.D. Coats paced the field to green with Rice out first as Harris made the quick out­side pass to second. Rice stayed out front until lap three when Harris moved to the front, bringing along Tom Humphries and Ryan Price.
Harris maintained the lead as laps clicked away and the front bunch pulling away.
With the white flag waving, Harris got a few car lengths ahead but Price was all over Humphries, trying one last low charge but coming up short at the line.
Feature results – 1. Jerald Harris; 2. Tom Humphries; 3. Ryan Price; 4. Anthony Linkenhoker; 5. J.D. Coats; 6. French Grimes; 7. Chris Ware; 8. Mike Keeton; 9. Bill Rice; 10. Andrew Wroten; 11. Glenn Worrell.