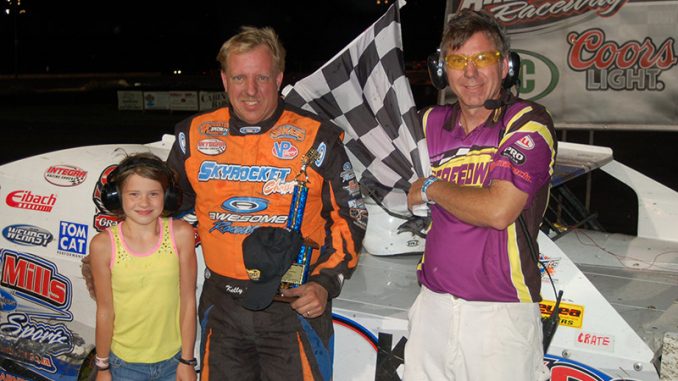 ARLINGTON, Minn. (July 16) – Kelly Shryock was the winner after five lead changes in Satur­day's Xtreme Motor Sports IMCA Modified Josh Wren Memorial main event at Arlington Race­way.
Already on the ballot for the Fast Shafts All-Star Invitational, Shryock earned $1,000 for a victory that was illuminated by a lightning display that eventually brought an early conclusion to the race program.
The first race leader was Dan Menk, who took what became a commanding lead before a lap yel­low was thrown for Adam Hensel, who slipped off the track and went into the work area.
Three restarts followed before Brandon Beckendorf was scored the leader for one lap, then went too high and off the track, causing another yellow.
Menk returned to the front spot for the ensuing restart. Shryock had moved through the field from his eighth place start, got around Menk to take the lead and stayed in front to the checkers.
Nick Helmbrecht passed Menk for second with five laps left. Beckendorf raced back to fourth and Tim Pessek rounded out the top five.
Prior to the feature, fans released balloons in memory of Wren, who died last year of colon cancer at the age of 24. He'd raced go-karts and later Modifieds at Arlington, and was a long-time crew­man for his father Jerry.
Feature results – 1. Kelly Shryock; 2. Nick Helmbrecht; 3. Dan Menk; 4. Brandon Beckendorf; 5. Tim Pessek; 6. Adam Hensel; 7. Jerry Wren; 8. Paul Stone; 9. Chad Porter; 10. Josh Larsen; 11. Jeff Coon; 12. Mark Weinzetl; 13. Trent Loverude; 14. Robert Theuringer; 15. Clint Hatlestad; 16. Tyler Limoges; 17. Jeff Maasch; 18. Travis Schurmann.