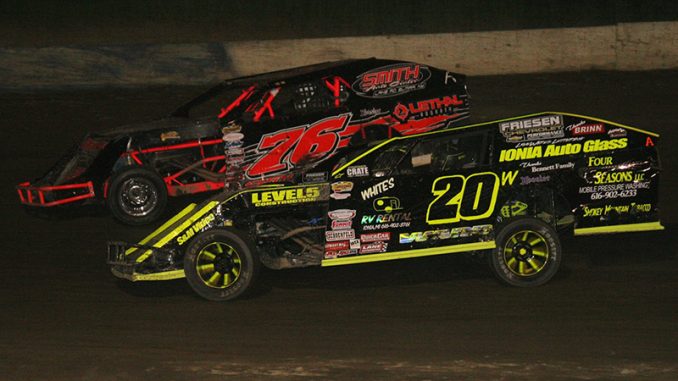 CORTLAND, N.Y. (July 17) – Another long haul from Michigan paid off for A.J. Ward.
Ward won for the ninth time this season Friday at Tri-City Motor Speedway then ran fourth in the Saturday Xtreme Motor Sports IMCA Modified show at Crystal Motor Speedway.
After making some minor setup changes, he grabbed a nap, then hit the pavement for an 11-hour plus tow to Skyline Raceway Park for Sunday night's Atomicwraps.com Empire State Series event.
Repeating the results of his trip to New York last season, when he topped the Northeast Shootout at Weedsport, Ward raced to the $1,000 to win checkers in the fifth installment of the 2016 series.
"I'd never been to Skyline but had bounced some ideas off Will Ward," he said. "He had a spot in the pits saved for us, which was good because the place was packed. We probably would have had to park on the road."
After running second in his heat and drawing the ninth starting spot for the 25-lap main event, Ward started making his way toward the front as the bottom line came in. He was chasing Brad Smith for the lead by the 15th circuit, finally clearing him going into the first turn.
Point leader Eddie Sites challenged for the lead but mechanical woes ended his threat and turned the runner-up position over to his brother Brad.
Brad Sites proved a worthy adversary, pulling alongside Ward after a series of late restarts. The last three laps stayed green and Ward was able to pull off the win.
A fast closing Gary Roberts was third while James Cornell recovered from an early race spin to finish fourth. Doug McCane rounded out the top five.
"In hot laps, the track was wet and choppy and I got high and hit the wall. We didn't have time to make any major changes but I still finished second in the heat," Ward said. "We tweaked it as best we could but the car was still not right for the feature. I really had to wheel it to make it work. We raced the track and I was the only one keeping it on the bottom."
Feature results – 1. A.J. Ward; 2. Brad Sites; 3. Gary Roberts; 4. James Cornell; 5. Doug McCane; 6. Bumps Scutt; 7. Keith Lamphere; 8. Tyler Stoddard; 9. Will Ward; 10. Rodney Morgan; 11. Jeff Cardinale; 12. Jason Benjamin; 13. Kevin Smith; 14. Mike Stoddard; 15. Brad Smith; 16. Don Alvord; 17. Eddie Sites; 18. Jeff Austin; 19. Brandon Smith.