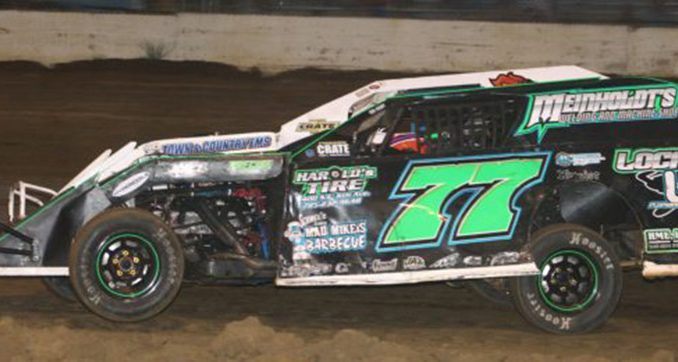 TOPEKA, Kan. (July 17) – Heading into Sunday night's Big Time Bail Bonds Sunday Showdown, there had been no repeat winners in three of the four IMCA Speedway Motors Weekly Racing divisions at Heartland Park Topeka.
As the season moved into its seventh event of the season, something had to give … or did it?
The event of the night had to be the BillsBuilt Race Cars IMCA Modified feature.
Jordan Grabouski moved quickly into the lead. He began to put some distance on the field. A yellow flag would spell trouble for the three-time feature winner as Grabouski pulled off the track with mechanical problems during a caution.
This would hand the lead over to veteran Tom Charles.
Charles, who started ninth on the field, kept the competition in check most of the night. That was until the last few laps.
Steven Bowers Jr. began to eat into Charles' lead late in the race. As they came to the white flag. Bowers was right on the back bumper of Charles. As the two worked the final turn Bowers took the extreme bottom and Charles was in the middle of the track side by side as the came out of turn four.
As they sprinted down the stretch it appeared Charles had a slight lead as they sprinted to the flagstand. Bowers caught his groove down the straightaway. The two were again side by side.
Heading to the stripe, Bowers edged in front of Charles by the slightest of margins. From the vantage point in the tower the margin of victory was about three-fourth's of a front bumper.
Brandon Conkwright hung on all the way to the finish and pick up his first Cars 4 Less IMCA Stock Car win at Heartland Park Topeka, the seventh different this season.
Cody Williams raced from eighth starting to prevail in the Jersey Mike's Subs IMCA Hobby Stock main event. Dustin Thulin topped the Jersey Mikes Subs IMCA Northern SportMod show.