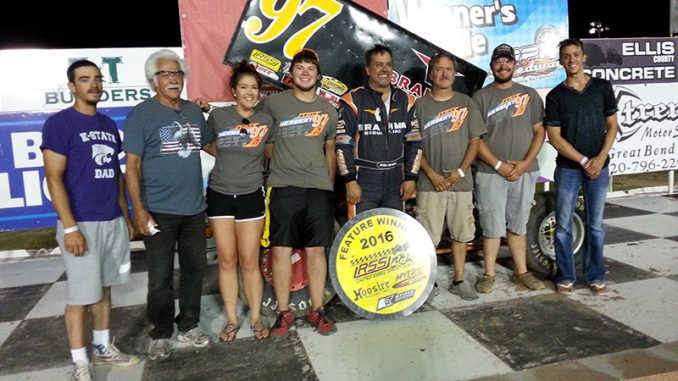 By Mike Hughes
HAYS, Kan. (July 16-17) – Brian Herbert pulled off a sweep in the annual Wheatshocker Nation­als at RPM Speedway during the Ellis County Fair races.
In the Sunday night United Rebel Sprint Series main event, Jed Warner looked to have the $2,000 winner's check in sight. Warner took the lead from Koby Walters on the second lap of the 30-lap event.
Warner pulled away following a lap four restart and continued to lead at the halfway mark. With four laps to go, Tracy Hill came to a stop to bring out a caution. Herbert, who was running se­cond, took advantage on the restart and shot to the lead and held on for the win. Walters finished se­cond, followed by Luke Cranston, Darren Berry and Mike Peters.
Herbert had inherited the win on Saturday after John Carney failed post-race tech. Zach Blurton, Warner, Walters and Cranston rounding out the top five.
Feature Results
Saturday – 1. Brian Herbert; 2. Zach Blurton; 3. Jeff Warner; 4. Koby Walters; 5. Luke Cranston; 6. Darren Berry; 7. Keefe Hemel; 8. Lance Davis; 9. John Webster; 10. Steve Richardson; 11. Kaden Taylor; 12. Jeff Radcliffe; 13. Kris Moore; 14. Tracy Hill; 15. Austin McClean; 16. Ryan Wal­ters; 17. Jeremy Huish; 18. Nate Berry; 19. Mike Peters.
Sunday – 1. Herbert; 2. Walters; 3. Cranston; 4. Darren Berry; 5. Peters; 6. Jake Bubak; 7. Blurton; 8. Ty Williams; 9. Jed Warner; 10. Hemel; 11. Webster; 12. Huish; 13. Richardson; 14. Hill; 15. Radcliffe; 16. John Carney II; 17. Davis; 18. Nate Berry; 19. J.D. Johnson; 20. Taylor Ve­lasquez.