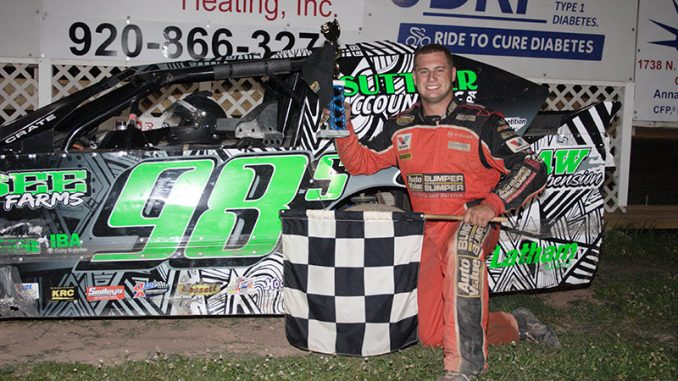 OSHKOSH, Wis. (July 15) – Oshkosh SpeedZone Raceway presented the Christmas in July event sponsored by Hobbytown USA Friday night.  Santa attended the program and had special presents for the kids while the drivers earned their rewards on the track.
Nolte's Auto Repair and Towing IMCA Northern SportMod point leader Tom Schneider started 10th on the grid and the green flag saw him take to the far outside line and the route took him to the lead on the opening lap.
A couple cautions kept Tim Sheppard, Scott Besaw, Bernie Miller, Dennis Schultz and Jason Ebert tight behind.  After a final restart on lap eight, Schneider opened a lead and despite Sheppard making a couple runs at him, was able to drive off with his fourth feature win of the season. Sheppard and Besaw were spaced out behind.
After an opening lap caution, Mike Mueller grabbed the lead in the Automotive Supply Company IMCA Modified feature and opened a lead on the field until a final caution on lap eight bunched the field.  T.J. Smith, Ed Lemay, Tim Lemirande, Sean Jerovetz and Benji LaCrosse were in line for the restart.
Mueller continued to set the pace with LaCrosse continuing to run the outside line and moving into the runner-up spot on lap 14, after starting the race in 23rd. A pair of laps later, LaCrosse took control and ran off to collect his second feature win of the season.
Mueller completed his best run of the season taking second with Lemirande third.
A field of 24 started the Jim's Auto Repair IMCA Stock Car main event with Jerry Kope setting the pace through a couple early cautions.  Karly Stadler, Travis Van Straten, Aaron Stolp and Jerry Winkler were behind for the lap eight restart.
Van Straten found his way to the lead after the restart and opened a bit of a lead as Joe White moved in the runner-up spot. For the last half of the race, Van Straten was able to hold the lead after repeated charges by White.
A final lap showdown would not decide the race, however, as a spin brought out a caution just after the white flag ending the contest and preserving Van Straten's fifth feature win of the season.  White settled for the runner-up finish with Winkler taking third.