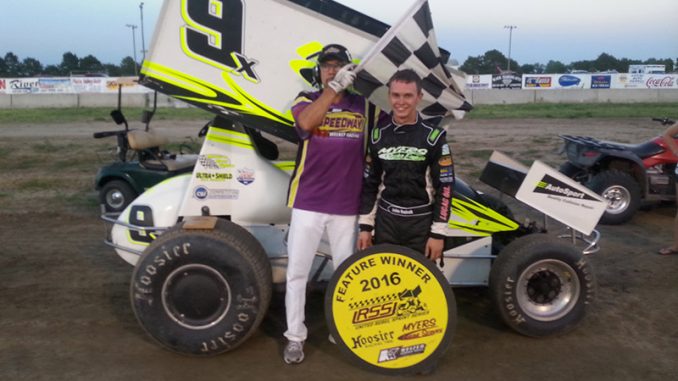 LEXINGTON, Neb. (July 10) – Jake Bubak made the trek to Lexington Raceway and picked up his first United Rebel Sprint Series win of the season on Sunday.
Brian Herbert taking the early lead and showed the way with Bubak drawing closer each lap. Bubak finally got around for the top spot on lap seven, then began building onto his advantage following a lap eight restart.
Luke Cranston headed the pursuit and was close behind Bubak by lap 13. Lap 20 saw the caution wave for the last time and set up a five-lap dash for the win.
Tyler Drueke slipped past Cranston for the runner-up spot after the restart.
Cranston, Jed Werner and Jeremy Huish made up the rest of the top five. Jeff Radcliffe picked up the Keizer Aluminum Racing Wheels hard charger award, coming from his 13th starting spot to finish sixth.
Feature results – 1. Jake Bubak; 
2. Tyler Drueke; 
3. Luke Cranston; 
4. Jed Werner; 
5. Jeremy Huish; 
6. Jeff Radcliffe; 
7. Brian Herbert
; 8. Doug Lovegrove; 
9. Zach Blurton
; 10. Lance Davis; 
11. Darren Berry; 
12. Nate Berry
; 13. John Webster; 
14. Craig Jecha
; 15. Zac Taylor; 
16. Nick Bryan
; 17. Aaron Ploussard
; 18. Tom Belsky
; 19. Richard Weers
; 20. Howard Van Dyke
; 21. Michael Beckerman.