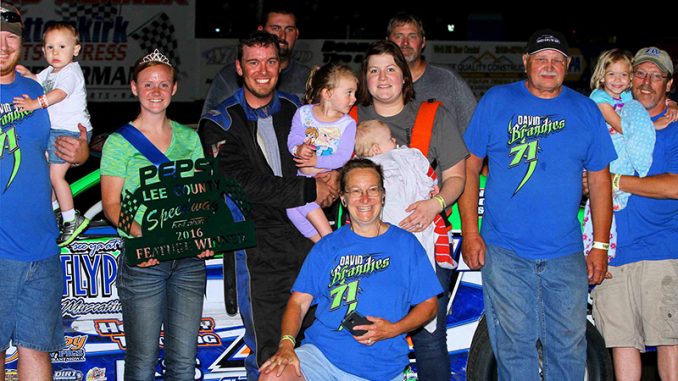 DONNELLSON, Iowa (July 7) – After he got over the hump, David Brandies went home with $1,000.
Brandies won Thursday's IMCA Sunoco Stock Car Shootout at Lee County Speedway. The victory was his career first at Donnellson and came in front of a packed grandstand.
"Last year I went here about half a dozen times, finished second a bunch of times but was never able to get over the hump," said Brandies, who was also runner-up in his one previous Donnellson start this season. "It couldn't have happened on a better night. This was the first time I won there and the second time I won $1,000."
Brandies started on the outside of the front row, chased leader Brandon Savage across the stripe on lap one and then found his way to the bottom as Kyle Brown went to the top side
The front trio ran three wide with Brown gaining the lead; both Brown and Savage exited with mechanical issues early in the contest and Damon Murty stepped up to challenge Brandies.
Murty was closing on Brandies before a late yellow set up a five-lap dash to the checkers.
"Once I got the lead I set sail and concentrated on hitting my marks," Brandies said. "My heart sank when that caution came out with five to go. I had a lot of heavy hitters on my back bumper."
One of those heavy hitters fell out of contention after the restart. Murty got sideways on lap 18 and lost several spots before he could right the ship.
Brandies motored to the win from that point, his second in five feature starts in a new home-built chassis.
Jeff Mueller was second while Jeremy Pundt, John Oliver Jr. and Johnny Spaw rounded out the top five.
Feature results – 1. David Brandies; 2. Jeff Mueller; 3. Jeremy Pundt; 4. John Oliver Jr.; 5. Johnny Spaw; 6. Louis Lynch; 7. Damon Murty; 8. Austin Evens; 9. Corey Strothman; 10. James Lynch; 11. Jason Cook; 12. Brent Hartley; 13. Scott Jordan; 14. Brad Egbert; 15. Kevin Koontz; 16. Jordan Gerling; 17. Adam Bell; 18. Kyle Brown; 19. Brandon Savage; 20. Mike Hughes; 21. Shane Paris.