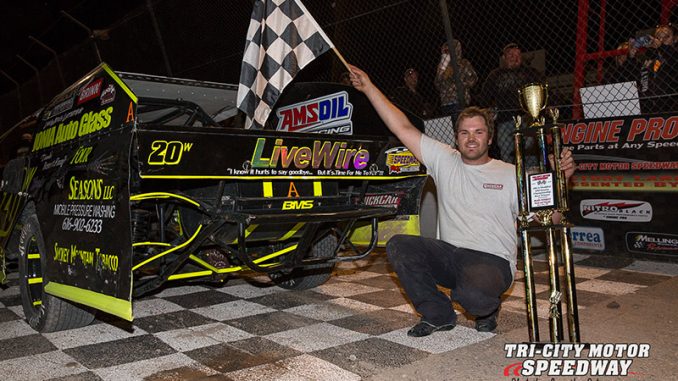 AUBURN, Mich. (July 1) – A.J. Ward captured his eighth Main Street Seed and Supply IMCA Modi­fied win of the season at Tri-City Motor Speedway Friday night.
The main event was loaded with drama and excitement as Ward was forced to start 19th in the 20-car field for the 20-lap mid-season championship. The father and son combination of Rusty Zeigler and Ken Zeigler won their heats and led the feature field to green.
Rusty Zeigler spun and collected a number of competitors. Once back to green, Ken Zeigler was challenged on lap four by Chad Wernette, who continued to lead until lap 13 when mechanical issues caused him to spin and bring out the caution.
With Wernette having to go to the pits, the lead was handed over to Todd Matheson. Matheson's lead would be short lived as Ward, who was on a mission after an earlier heat incident, pulled the slide job on Matheson in turn four of lap 14.
Ward went unchallenged for the final five laps to capture his eighth feature in eight starts.  Defend­ing champion Myron DeYoung beat Matheson to the checkered flag for the runner-up fin­ish with Craig Vance in fourth followed by Toby Steele rounding out the top five.
Tri-City kicked off the Independence weekend and the halfway point of the 2016 race season with a full field of cars throughout the competing divisions. The large crowd was treated to a phenome­nal fireworks display from Wolverine Fireworks Display.