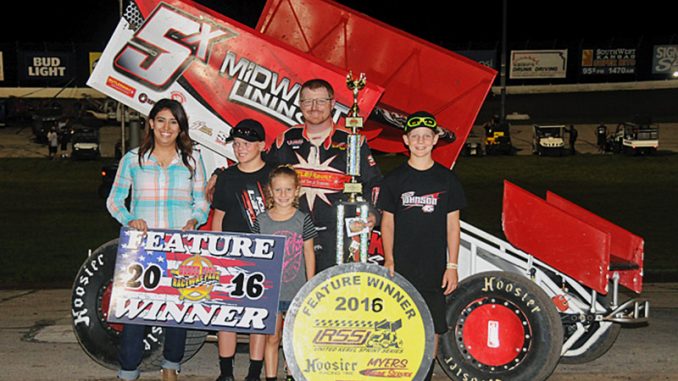 DODGE CITY, Kan. (July 3) – Now a resident of Lincoln, Neb., Jason Martin rarely gets an oppor­tunity to race in front of his native Liberal, Kan., friends and family.
Martin took full advantage of the opportunity to do just that by leading wire-to-wire in the 25-lap URSS vs. Precise Racing Products Sprint Car portion of the Boothill Showdown Steve King Memo­rial at Dodge City Raceway Park to take the $2,000 winner's share.
"There were some bad boys behind me. I had to be on my 'A' game to keep them there," Martin said after the triumph over a field of 39 competitors.
After a sixth-place run from 18th in Friday's preliminary event, Martin earned a position in Sun­day's redraw after heat race action and pulled the pole starting position for the feature event with reigning track champion Luke Cranston alongside.
Martin gunned into the lead at the outset and kept Cranston at bay throughout, surviving three minor cautions in the opening 15 rounds and then one final stoppage after 22 laps.
Martin held off Friday preliminary winner Cranston on the final three-lap dash to the stripe with John Carney II taking the final podium position in third. Jeremy Huish was fourth with Mike Peters rounding out the top five.
Zach Blurton was sixth, with Zac Taylor, Taylor Velasquez, Lance Davis and 18th-starter Tyler Knight completing the top ten earning him the Keizer Wheels Hard Charger Award.
Feature results – 1. Jason Martin; 2. Luke Cranston; 3. John Carney II; 4. Jeremy Huish; 5. Mike Pe­ters; 6. Zach Blurton; 7. Zac Taylor; 8. Taylor Velasquez; 9. Lance Davis; 10. Tyler Knight; 11. Kris Moore; 12. Steven Richardson; 13. Jordan Knight; 14. Brian Herbert; 15. Koby Walters; 16. Todd Plemons; 17. Keefe Hemel; 18. Ty Williams; 19. Brandy Jones; 20. Nate Berry; 21. Barry Crane; 22. Brandon Sprott; 23. Jordan Randles; 24. J.D. Johnson.