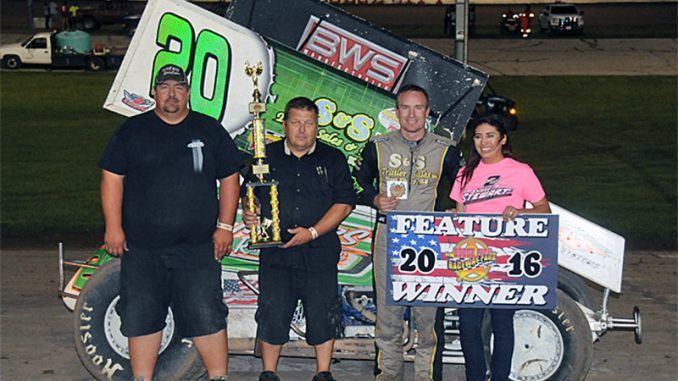 DODGE CITY, Kan. (July 1) – In the 20-lap URSS vs. Precise Racing Products DCRP Sprint Car feature, Luke Cranston took advantage of a lap six restart and never looked back en route to his second consecutive Dodge City Raceway Park triumph.
"The car was working really good early on. It felt like it slowed a little later in the race though," Cranston commented.
If it lost any speed at all, it wasn't noticeable as Cranston weathered several cautions along the way to capture the victory in the first URSS National event of the season.
While Cranston rallied from the sixth starting position to take the lead away from Darren Berry on a lap six restart, the battle for position in his wake was intense throughout with Taylor Velasquez ultimately making his way into the runner-up position by sliding past Mike Peters with the white flag in sight.
Peters settled for third behind Cranston and Velasquez with Steve Richardson finishing fourth after losing a pair of positions following a lap 13 caution. Ty Williams raced from 14th to round out the top five with the top passing jobs turned in by Jason Martin (18th to sixth) and Zach Blurton (20th to seventh) earning him the Keizer Wheels Hard charger award. 
Feature results – 1. Luke Cranston; 2. Taylor Velasquez; 3. Mike Peters; 4. Steven Richardson; 5. Ty Williams; 6. Jason Martin; 7. Zach Blurton; 8. Austin McLean; 9. Darren Berry; 10. Keefe Hemel; 11. Jed Werner; 12. Jeff Radcliffe; 13. Jordan Knight; 14. John Webster; 15. Tracey Hill; 16. Kaden Taylor; 17. Zac Taylor; 18. John Carney II; 19. Joe Wood Jr.; 20. Kris Moore.