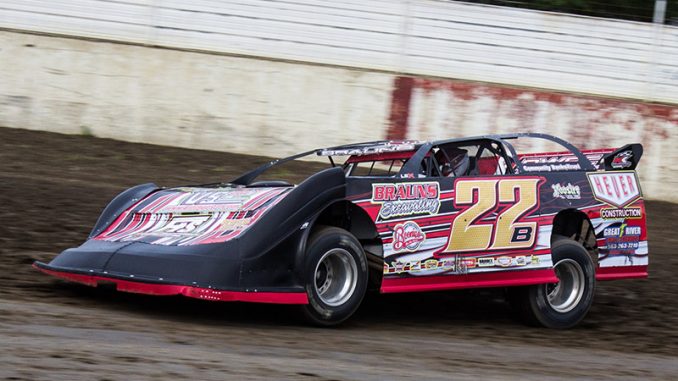 By Jerry Mackey
WEST LIBERTY, Iowa (July 2) – Saturday night, the West Liberty Raceway hosted the IMCA Weekly Racing Series with the fourth annual Drivers' Reunion, which featured several drivers from the past on hand as guests of the track.
The headliner of the night saw up and comer Jonathan Brauns score his first ever iWireless IMCA Late Model feature win in very convincing fashion. Brauns shot out front from his outside front row start and went on to lead the caution free main event flag to flag.
The win has been coming for quite sometime for the young Muscatine driver and Brauns stated in victory lane, "Winning at West Liberty is very special and we have been close on several occasions and it feels really great to get our first here." Rob Moss ran second on Saturday night ahead of Chad Holladay and Ron Boyse.
The Performance Concepts IMCA Modified feature saw Steve Stewart break a two-year winless streak at West Liberty with an impressive win in the 20-lap feature. Stewart took over the top spot early in the race as he shot by early leader Matt Bodman. Stewart went on to score the win ahead of Jerry Luloff and Derrick Stewart.
The Weikert Iron & Metal IMCA Northern SportMod main event win went to rookie driver Jarrett Brown. Brown was flawless despite heavy pressure from Colton Livezy and Dalton Simonsen who finished second and third, respectively. Although Jarrett Brown is not old enough to drive on the streets, he proved that he is more than capable of winning races at the tender age of 14.
Johnny Spaw took advantage of a late race caution to score the 15-lap feature in the Kile Motorsports IMCA Stock Car Class. David Brandies was involved in the late race caution but raced back to finish second ahead of Matt Picray.
The US 6 Bodyworks IMCA Sport Compact feature was decided on the home stretch as Jason KlerkDerus shot to the low side in turn four and took a half car length win over Shane Evans.