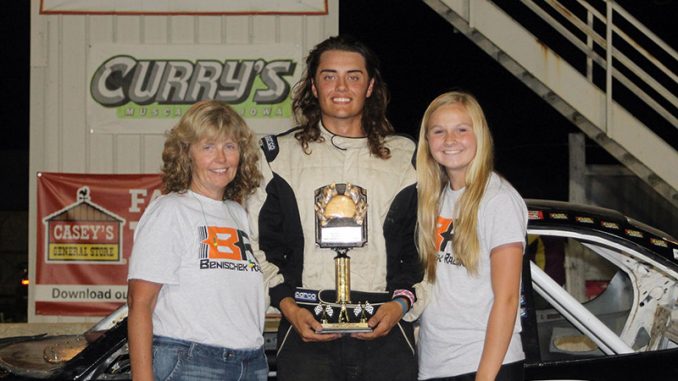 COLUMBUS JUNCTION, Iowa (June 24) – Adam Bell and Jake Benischek were feature winners on Friday, mid-season championship night at CJ Speedway.
Travis Finke and Jordan Gerling led the Kauffman Electric IMCA Stock Car field to green but it was fifth starting Rod Staats in the lead when lap one was scored.
Staats then had to work at holding off Bell over the next five laps. Bell slipped under Staats on lap six to take over the top spot, leaving Staats to battle Sky Griffith, who started ninth, Tad Payne, who started 13th, and Kirk Kinsley, who started eighth.
As the battle for second heated up, Bell pulled away over the final nine laps to pick up his third win of the season at the track. Kinsley made a last-lap pass to finish second, Staats was third, Payne was fourth and Griffith came home fifth.
Bryerson Tharp and John Whalen led the field to green in the 12-lap Louisa Communications IMCA Sport Compact feature. Whalen took the early lead over Wayne Noble, who started sixth, and Brendon Schultheis, who started eighth.
Whalen held the top spot until a restart on lap four, when Benischek, who started seventh, slipped un­der him for the lead. Benischek led the final eight laps to capture his third win in a row at the track. Richard Hurlbut crossed the line in second but was disqualified in tech for illegal rear springs. This moved Josh Mosier to second.
Rounding out the top five were Levi Heath, Bill Whalen Jr. and Schultheis.
Friday's program was presented by Casey's General Stores.