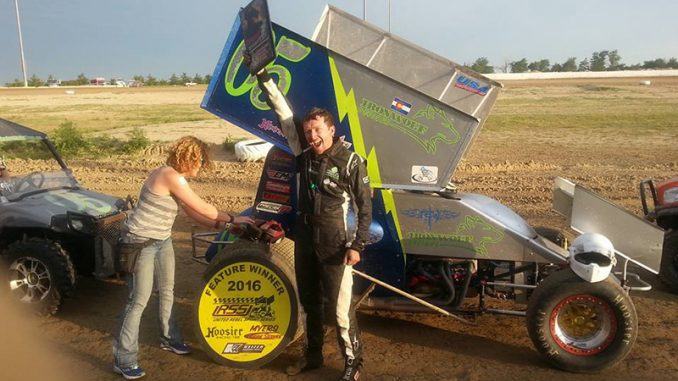 BYERS, Colo. (June 25) – Justin Medlock and Zach Blurton were feature winners when the United Rebel Sprint Series rolled back through the pit gates at Colorado Motor Sports Park Satur­day night.
Medlock scored the first victory of his career in the feature rained out and made up from May 28 at Byers. Blurton then paced the scheduled event.
Medlock led every lap of the rescheduled contest after starting outside the front row. Austin Mclean took the runner-up position back from Bob Schaeffer on lap 15; Scott Cochran and Tod Plemons completed the top five.
Blurton wired the field in the scheduled 20-lapper that followed, becoming the fourth different win­ner in as many URSS events at Byers this season.
Lap 12 saw second running Coby Pearce go off track, giving the runner-up spot to Mclean.
As the laps dwindled away it was Blurton holding a comfortable lead and taking his first Colorado Region win of 2016. Mclean made it two runner-up finishes in a row with Cochran, Brian Hardman and Schaeffer rounding out the top five.
Results
Make-up feature – 
1. Justin Medlock; 
2. Austin McLean; 
3. Bob Schaeffer; 
4. Scott Cochran; 
5. Todd Plemons
; 6. Zach Blurton; 
7. Clint Schubert
; 8. Coby Pearce
; 9. Howard Van Dyke; 
10. Brad Wasson; 
11. Tara Jo Christie; 
12. Luke Lucero; 
13. Brian Hardman; 14. Scott Rhoades; 15. Nick Sutton; 16. Ian Christie.
Scheduled feature – 
1. Blurton; 
2 McLean; 
3. Cochran; 
4. Hardman; 
5. Schaeffer
; 6. Lucero
; 7. Plemons
; 8. Rhoades; 9. Medlock; 
10. Sutton; 
11. Shubert; 
12. Wasson
; 13. Van Dyke
; 14. Tara Jo Christie
; 15. Pearce; 16. Ian Christie.