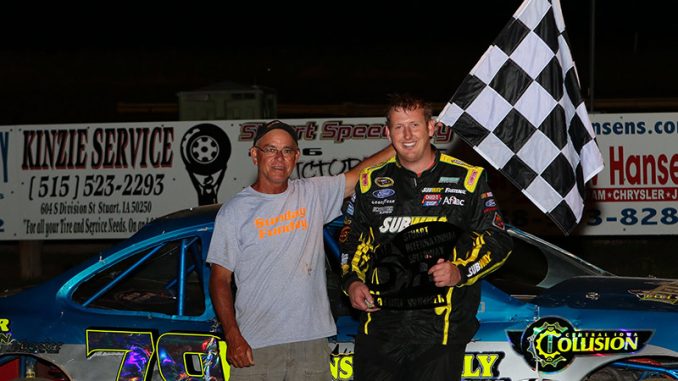 By Josh Reynolds
STUART, Iowa (June 26) – If the script from Sunday's Stew Hansen Dodge Stock Car Shootout at Stuart Speedway sounded familiar, it's because you saw it played out last season, too.
Josh Pruitt borrowed his father Terry's IMCA Sunoco Stock Car, won the main event and took home $1,000 for the second straight year.
Mike Harris and Pruitt pulled the first two chips out of the bucket and led the field to green. Pruitt held the top spot early over Harris and Damon Murty.
Murty moved to second on lap five and set his sights on the lead, but a flat tire on lap 10 ended his night and turned over second to Marcus Fagan.
Fagan stayed zeroed in on Pruitt until the yellow flew on lap 19. The cars bunched up for the final restart of the night, and while everyone was doing the chasing, Pruitt set sail to take his second straight Shootout by nearly half a straightaway.
Terry Klocke finished second with Jay Schmidt third, Fagan fourth and Todd Inman fifth.
Other winners included Jake Murray in the Xtreme Motor Sports IMCA Modifieds, Ryan Grochala in the IMCA Sunoco Hobby Stocks, Clint Luellen in the Karl Chevrolet Northern SportMods and John Gill in the Mach-1 Sport Compacts.
Next Sunday, July 3 will be the Fever Heat Classic. IMCA Late Models will make their sole appearance at Stuart this season, racing for $1,000 to win, while the Sport Compacts are in search of a $250 payday!.
Both divisions will be draw/redraw and the other regular divisions will be in action as well.
Feature results – 1. Josh Pruitt; 2. Terry Klocke; 3. Jay Schmidt; 4. Marcus Fagan; 5. Todd Inman; 6. Adam Klocke; 7. Josh Daniels; 8. Daniel Hilsabeck; 9. Brian Blessington; 10. Randy Killen; 11. Robbie Merkle; 12. Derrick Rohe; 13. Cory Bushnell; 14. Gene Stigall; 15. Clay Mercer; 16. Mike Albertson; 17. Brandon Pruitt; 18. Damon Murty; 19. Mike Harris; 20. Ben Walding.