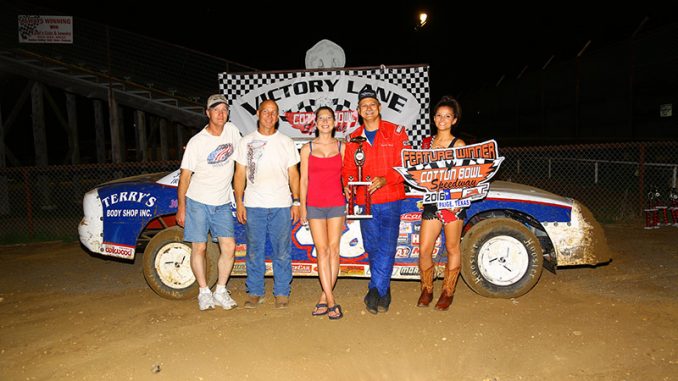 By J.M. Hallas
PAIGE, Texas (June 25) – Duane Toyne, who has raced in Kansas and Texas and on both as­phalt and dirt, scored his first-ever IMCA Stock Car victory against a stout field Saturday at Cotton Bowl Speedway.
Toyne started outside row two but lost ground on the start. He methodically worked his way back to the front, catching early leader Joe O'Bryan in the final laps.
Toyne got inside O'Bryan, with the two side-by-side, before Toyne inched ahead. O'Bryan tried to crossover on the final lap, but it was Toyne taking the checkers.
"This car was one I picked that was built in Nebraska. I don't know much of the history on it. It's a fairly older car, built in '09, but it's had all the updates on it and drove like a dream tonight," he said. "The motor is from Kansas, also. It was built by an independent guy who puts them together now and then. He built this motor for my old Camaro when I was back there."
Keith White was the Xtreme Motor Sports IMCA Modified winner on a bittersweet night for fellow open wheel driver Billy Bachmeyer. Bachmeyer was running his last IMCA Modified race of the season in order to spend time with his family. Bachmeyer gave away T-shirts and other souvenirs and won his heat, but had to settle for a mid-pack finish in the feature.
Tenth starting G.W. Egbert was the Scoggin-Dickey Parts Center Southern SportMod winner while Larry Underwood topped an IMCA Sunoco Hobby Stock feature that ran non-stop for all 15 laps.