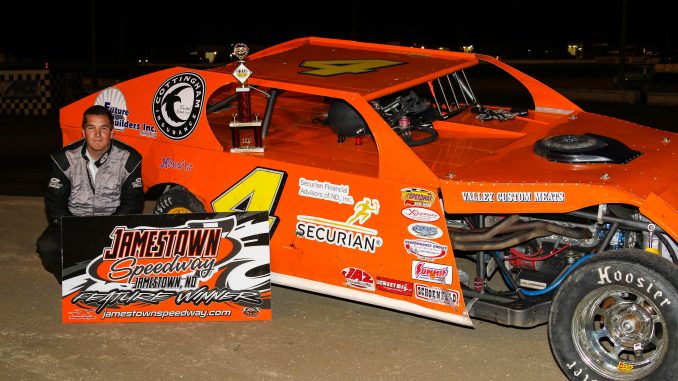 By Michael Savaloja
The Jamestown Sun
JAMESTOWN, N.D. (June 25) – Jordan Huettl didn't lead the first lap on Saturday at Jamestown Speedway.
But that was OK. He led the rest.
The Minot driver took over the top spot of the 20-lap Xtreme Motor Sports IMCA Modified feature on lap two after starting on the outside pole. Huettl then glued his no. 4 machine to the cushion near the top of the racing surface and never looked back.
It was back-to-back wins for Huettl. He was coming off Thursday's Topless Night victory at Nodak Speedway in Minot.
"We kind of got tangled up on the start a little bit. But I just let them go and chased them back down," Huettl said, as Ryan Cousins led the opening lap from the pole. "From there, my car wanted to be up on top, and it was good to see that."
Huettl posted the quickest lap of the race on the quarter-mile oval in 16.742 seconds and held off the 25-car feature field over a total of four caution flags. John Corell, the May 28 feature winner here, was on the move, finishing second after starting eighth.
"You never know what's going on behind you," Huettl said. "I knew I had a fast car, but you'd rather see it just go green."
Cousins finished third, while Eric Edwards posted a solid fourth place run after starting 15th. It was Edwards' fourth top 10 of the season.
Huettl's first Jamestown Speedway feature victory came in just his second visit here this season. The third-year Modified driver recorded a 24th place DNF in Jamestown on June 4.
"We can't come here every week, but we've been trying to come when we can," said Huettl, regarding Jamestown Speedway's move to IMCA Modifieds this season. "I like it, and I think everybody is going to get used to it and they're going to love it."