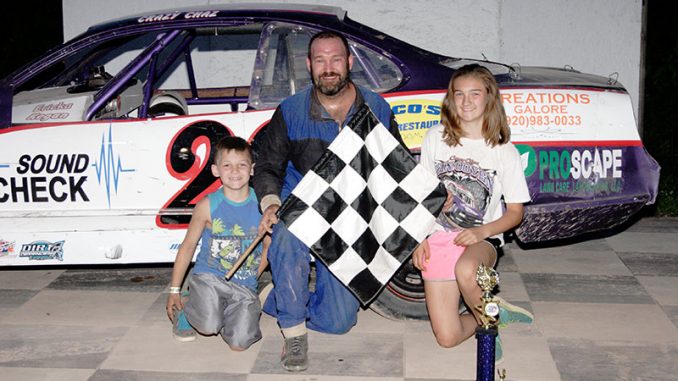 By Dave Panske
SEYMOUR, Wis. (June 19) – Charles Van Ooyen took the final checkers of the night Sunday at Seymour Raceway Park.
Brandon Gagnon set the pace early for the Coors Light IMCA Stock Cars with Trent No­lan moving into the top spot on lap three. The pack stayed tight and Travis Springstroh moved up to challenge and took the lead on lap 10.
Defending national champion Travis Van Straten, Van Ooyen, Bob Czarapata and Kyle Frederick were moving up through traffic. There were several cautions in the first half of the race but the final restart came on lap 15 and the last half of the race stayed green.
Van Ooyen and Frederick challenged Springstroh after the restart and Van Ooyen made the move to the inside to take charge on lap 16. Frederick followed into second one lap later and the pair took off from the field.
By the time Van Straten took third, the leaders had a several car length advantage. With a clear track ahead of him, Van Straten quickly closed the gap and for the final six laps it was a three-car dogfight for the win.
Van Ooyen held off both challengers and took the victory with Van Straten making a final lap run to the outside of Frederick to steal the runner-up spot away at the finish line. Springstroh finished fourth with Dylan Heilmann fifth.
J.J. Andersen was the Karl Chevrolet Northern SportMod winner earlier in the evening.
Jessi Ness led through a pair of early race cautions. On the final restart, on lap eight, Scott Be­saw wrestled the top spot away with Kevin Bethke, Colten Van Hierden, Andersen and Lucas Lamber­ies all in line by lap 10.
Van Hierden hooked up on the outside and ran side-by-side with Besaw and was scored as the leader on a couple laps before dropping off the pace a bit and allowing Besaw to reclaim the top spot on lap 14.
Andersen moved into second and on lap 20 pulled into the top spot and led the final five laps to capture his first SRP feature win. Besaw ran to his best finish here taking second. Travis Arenz made a late-race charge to secure third. Bethke and Chris Budzban rounded out the top five.