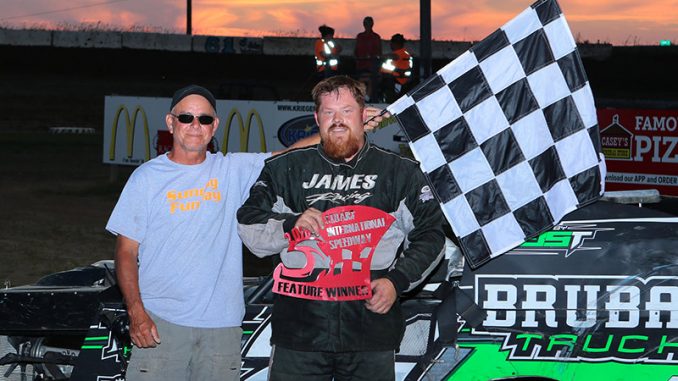 By Josh Reynolds
STUART, Iowa (June 19) – The race was for second once Jeff James got to the front of the Xtreme Motor Sports IMCA Modified field at Stuart Speedway.
Bob Daniels and Todd Cooney brought the Modifieds to the initial green with Cooney taking the early lead over Daniels and James. James moved to second on lap three and set his sights on the lead as Cooney continued to show the way.
James slowly chewed away at Cooney's lead and on lap 10 took over at the front. From there the race was for second as James went on to win. Jake Murray was second with Josh Gilman third, Cooney fourth and Todd VanEaton fifth.
Josh Daniels held the IMCA Sunoco Stock Car lead until Marcus Fagan shot by on lap eight. Daniels worked to find a faster groove, but it was not to be as Fagan went on to the win. Daniels finished second with Brandon Pruitt third, Robbie Merkle fourth and Chris Pruitt fifth.
A bobble by Buck Schafroth allowed Jamie Schirm to take control on lap 10 of the IMCA Sunoco Hobby Stock main. Schirm went on to the win with John Watson second, Jason Day third, Keith Burg fourth and Schafroth fifth.
Clint Luellen charged into the Karl Chevrolet Northern SportMod lead on lap nine and never looked back in taking the win. Adam Armstrong finished second with Kody Havens third, Jerry Hinton fourth and Austin Luellen fifth.
John Gill came through to lead at the start and that was all she wrote as he led every lap to take the Mach-1 Sport Compact win. Curtis Miller finished second and Aaron Miller ran third.
Next week will be the Stew Hansen Dodge Stock Car Shootout. Stock Cars will be racing for $1,000 to win and a minimum of $100 to start.