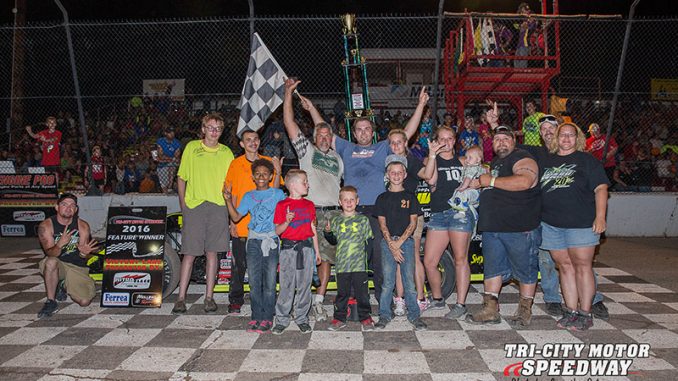 AUBURN, Mich. (June 17) – Tri-City Speedway's Greased Pig 6.0 ended with A.J. Ward in victory lane 7.0.
Ward won for the seventh time in as many Auburn starts this season Friday night, collecting $1,066 following the Lane Automotive/Optima Batteries IMCA Modified Challenge presented by Allstar Performance 38-lapper.
A season-high 32 Main Street Seed and Supply IMCA Modified drivers were on hand. Brody Bowser and Tanner Pray brought the main event field of 20 to the green flag of the extended lap feature.
The two swapped the lead numerous times during the opening laps before Craig Vance took his turn as the leader. On lap five, Austin Wonch wrestled the lead away and tried to run away from the pack.
It took until lap 16 before ninth start Myron DeYoung made the pass on Wonch for the top spot. It looked as if the race was DeYoung's to lose as he extended his lead by over a straightaway over a battling Wonch and Ward.
However, a late caution on lap 33 bunched the field for a final showdown. On the restart, Ward pulled off the slide job in turn four that would eventually be the race-winning pass.
DeYoung was unable to challenge as Ward would win his seventh local feature in as many starts.  Wonch ended up third and was followed by Grizzle and Gary VanderMark.
Ward was already on the ballot for the 2016 Fast Shafts All-Star Invitational.
Tri-City Motor Speedway celebrated its six-year anniversary Friday with a special Kids Night, where children 15 and under received free admission, and Autograph night.  The 100 drivers in attendance brought their cars out onto the front stretch for a chance to meet and mingle with the race fans.
Feature results – 1. A.J. Ward; 2. Myron DeYoung; 3. Austin Wonch; 4. Heath Grizzle; 5. Gary VanderMark; 6. Tanner Pray; 7. Joe Fowler; 8. Gavin Hunyady; 9. Chaz Pray; 10. Brenten DeYoung; 11. Aaron Spearling; 12. Matt Szecsodi; 13. Ken Zeigler; 14. Craig Vance; 15. Todd Matheson; 16. Don Sautter; 17. Chad Wernette; 18. Brody Bowser; 19. Toby Steele; 20. Kody Johnson.