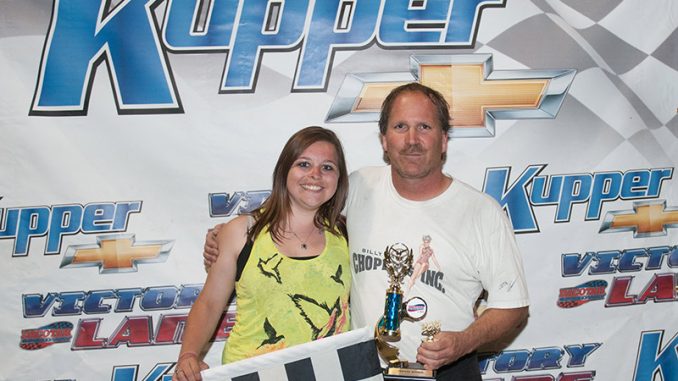 MANDAN, N.D. (June 17) – Inches made the difference between the top three places Friday at Dacotah Speedway, as Mark Dahl got the best of Jordan Huettl and Jason Wolla in the evening's Xtreme Motor Sports IMCA Modified feature.
Huettl went from fourth starting to first early in the main event, before a series of cautions slowed the pace. Following the restart on lap eight, Dahl passed Wolla for third and then caught Shawn Strand for second.
Strand fell into the clutches of Wolla and Spencer Wilson. They raced three-wide for third until Wolla shuffled into third. With 10 laps to go, Huettl's lead started to diminish as he started catch­ing lapped traffic.
Dahl was all over Huettl's rear bumper but lapped traffic made it difficult to pass. Wolla quickly caught the leaders and made it a three-car battle. Dahl dove low under Huettl as Wolla looked to the outside.
As they crossed the Open Road Honda finish line three wide, Dahl won by inches over Huettl and Wolla.
Jason Berg was the Mach-1 Sport Compact winner.