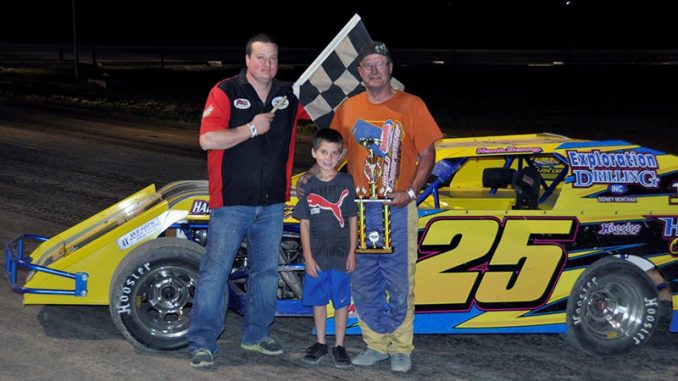 By Dru Brown
BILLINGS, Mont. (June 18) – Hank Berry started fast and finished smooth as silk in winning Satur­day's Xtreme Motor Sports IMCA Modified feature at Billings Motorsports Park.
Right from the drop of the green flag, Berry seized the top spot and ran away.  Deep in the pack Kenny Baumann was man handling his car through traffic but it appeared like he was running out of laps to track down Berry.
Baumann made his way all the way to second and seemed to be the only driver to hang with Berry.
Just before the frontrunners took the white flag the yellow waved and a smile had to have crept across Baumann's face because he knew this was the shot he needed.
Berry took the cars to the start/finish line and Baumann drove his Modified in there as hard as he could and made it stick, but Berry maintained the lead out of turn two.
Berry was as smooth as silk, kept his car on the bottom line and took the checkers. Baumann crossed second and Beau Nave made some thrilling passes late to grab the third spot.