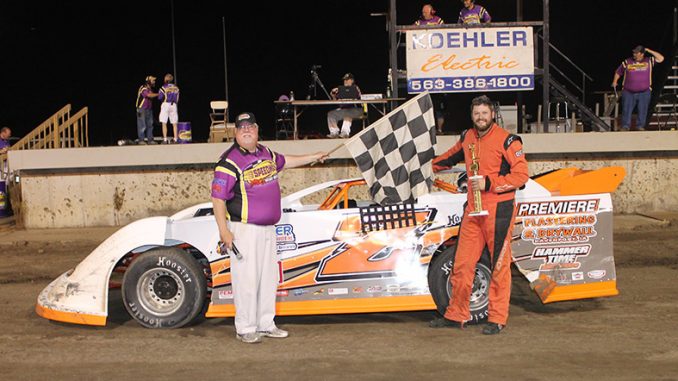 By Mike McGuire
DAVENPORT, Iowa (June 17) – Mike Zemo Jr. needed to be both lucky and good to win at Daven­port Speedway on Friday night.
Zemo started the Petersen Plumbing and Heating IMCA Late Model feature in the third position, but did not see the lead until a lap 10 restart. Three laps later, the yellow flew again. On the ensu­ing restart, Brunson Behning took over the lead.
Behning looked to be in control of the race until he pulled off the track on lap 22. Zemo again took the lead but had one more issue to deal with … Chuck Hanna. On the final corner of the final lap, Hanna tried to dive under Zemo, but could not make the move stick.
Zemo captured his first feature win of the season at Davenport with Hanna taking second and Andy Nezworski third. Early race leader Stephan Kammerer and Matt Ryan completed the first five.
Jason Pershy topped a quality field of Eriksen's IMCA Modifieds. After a couple of starts were called back due to yellows, Jordan Hicks used the high line to launch out into the lead. Hicks led the first 16 laps of the 20-lap main.
On lap 17, Pershy drove under Hicks for the lead and led the rest of the way to the checkered flag. Hicks held on for second, with Mitch Morris coming from mid-pack to take third. Bob Dominacki and Bryce Garnhart were fourth and fifth, respectively.
Tony Olson scored his third feature win of the season in Hawkeye Auto IMCA Northern SportMod action. Olson drove from eighth starting position to the lead in just two laps. Once in the lead, Ol­son checked out from the field. Andrew Burk finished a distant second and was followed by Jake Morris, Jarrett Franzen and Aaron Hitt, in that order.
Next Friday, June 24 will be Mid-Season Championship night at Davenport Speedway. All classes will use a draw-redraw format.