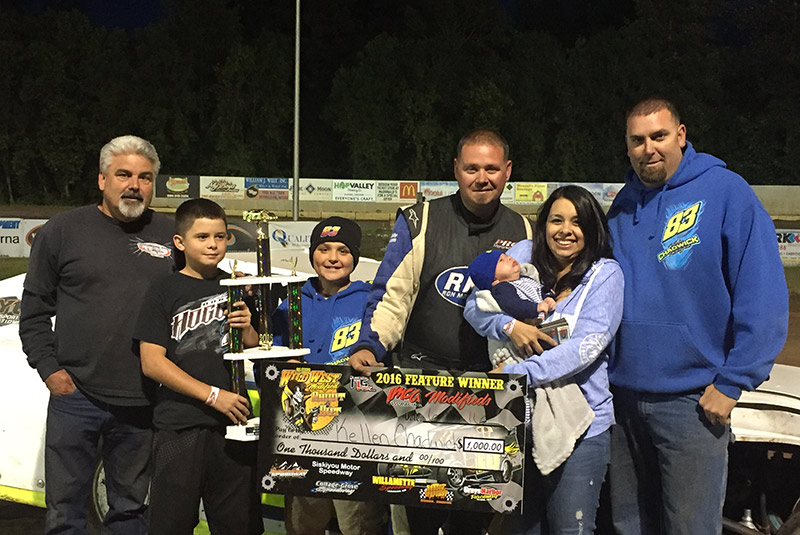 By Ben Deatherage
COTTAGE GROVE, Ore. (June 13) – Kellen Chadwick stayed persistent and was rewarded with his second straight Wild West Modified Shoot Out feature win Monday at Cottage Grove Speed­way.
The $1,000 Xtreme Motor Sports IMCA Modified checkers were the second in as many nights for Chadwick, who'd also won Sunday at Siskiyou Motor Speedway.
Tripp Gaylord took full advantage of his pole starting position to get to the front early. The first-time visitor to Cottage Grove mastered the middle of the track and kept all challengers at bay for much of the race. Unfortunately for Gaylord, he wouldn't be able to build on his lead due to sev­eral cautions occurring in the first half of the race.
Despite the yellows, the young Gaylord was good enough on the restarts to maintain the lead and went to work on creating distance between himself and the second-running Chadwick.
Chadwick searched high and low to try and find a way around the leader but each time Gaylord got away.
Finally, Chadwick pulled even with Gaylord after a lap 26 restart. He finessed the throttle on the bottom of the track to get in front of Gaylord on lap 27 and from there on out cruised to the rest of the distance to win the second straight Wild West Modified Shootout event of his career.
Tripp Gaylord crossed the wire second but was too light at the scales and was disqualified.  Tripp's older brother Ryan was promoted to second and Bricen James to third. Fourth place belonged to Jesse Williamson while the top five was completed by Collen Winebarger.
Forty drivers, representing Oregon, Washington, California, Montana, North Dakota, Colorado, and North Carolina, as well as the Canadian province of British Columbia were on hand for round three of the tour.
The Shoot Out returns to Cottage Grove Speedway on Tuesday June 14th for round four of the series.  Racing starts at approximately 6:30 p.m. and tickets are $8 for adults while kids ages 6-12 are $5 and five and under are free.
The tour heads to Willamette Speedway in Lebanon on Wednesday, June 15.  Tickets for that race are $14 for adults, $10 for juniors, seniors and military, and $5 for youth. Family passes (two adults and up to four youth) are $35. Front gates open at 3:30 p.m. and racing kicks off at 6:30. p.m.
Feature results – 1. Kellen Chadwick; 2. Ryan Gaylord; 3. Bricen James; 4. Jesse Williamson; 5. Col­len Winebarger; 6. Alex Stanford; 7. Mark Wauge; 8. John Campos; 9. Jake Mayden; 10. Rob Ireland; 11. B.J. Wild; 12. Steven Sturdevant; 13. Brian Thompson; 14. Kevin Roberts; 15. Lance Mari; 16. Matt Jenner; 17. Graham Cook; 18. Preston Luckman; 19. Mark Carrell; 20. Brian Poppa; 21. Randy Brown; 22. Lawrence O'Conner; 23. Danny Lauer; 24. Tripp Gaylord.